A Level Results Success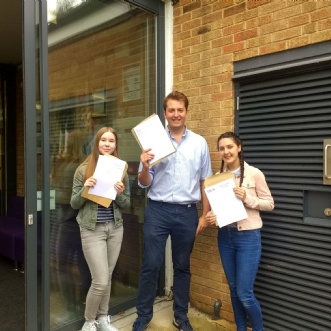 St Benedict's celebrates a fantastic set of A Level results.
"We are absolutely delighted with the success that our students have enjoyed this year and this is truly a reflection of their hard work and commitment. I know this cohort of students very well as I started here at St Benedict's in September as their Head of Sixth Form and I am incredibly proud of all that they have achieved. I am also very proud of St Benedict's School as a community. As a small comprehensive Sixth Form to see 23% of our students achieve three or more straight A*/A and 49% of students achieve three or more A*/A/B grades shows the commitment of the whole school to the highest possible standards. These grades are an accurate reflection of the vibrant learning community fostered in the school and I look forward to hearing how these young people will continue to contribute to society from these excellent academic achievements."

Mrs Imogen Senior
Headteacher
Headline figures
61 students sat exams
100% pass rate (A-E)
86% A-C
High achieving students:
Liam Gallagher: A*, A*, A*, A. heading to Imperial College London, Mathematics and Computer Science
Harriet Allum: A*, A*, A, B. Taking up her place at Oxford to read Mathematics
Frankie Wright: A*, A, A. Again heading to Oxford, to read PPE
Mary Whittingdale,: A*, A*, B. Will be reading Theology and Religion at Oxford
Millie Eddy: A*, A*, A. Has accepted a place to study Economics at Leeds
Gilbert Jackson: A*, A, A, A. Will also be heading to Imperial College London
Max Bidewell: A*, A*, A, D. To read medicine at Nottingham University
Megan McGowan: Will be reading medicine at Plymouth University
Seren Firat: Is celebrating securing A,A,A despite significant health issues this year which will mean that she can take up her place to study Dentistry at Dundee.
Jeanne-Marie Gruszecki: Is also heading to Plymouth for her Dentistry course
Maria Kamel: Will be heading to Queen Mary, London to start Dentistry.
In the news