Schools Will Rock You Tickets Now on Sale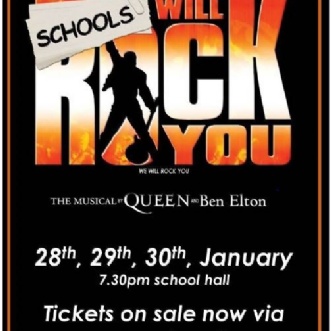 Ticket sales for our school production of We Will Rock You are now on sale!
We have been working hard and rehearsing since September and can't wait for our evening performances in January.
Make sure you purchase your ticket via parent pay in order to secure your place. Each date has two payment items against it – one for Adult tickets and the other for Child (under 16) tickets. If you have a seating preference (front/middle/back) please specify in the notes section. We will do our best to fulfil requests, but this can't be guaranteed!
Dates: Tuesday 28th, Wednesday 29th, Thursday 30th January
Time: 7. 30pm
Location: St Benedict's Uppers school Hall
Adults £8
Children under 16 £5
Your tickets will have seat numbers on and will be distributed to your child to bring home.
We look forward to seeing you.