A Penumbral Lunar Eclipse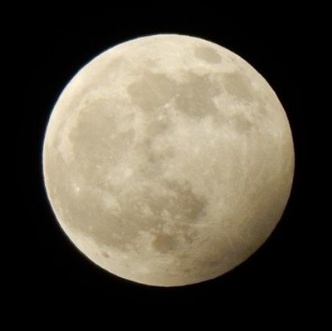 Last Friday, 10th January, our evening sky stayed clear enabling us to witness an astronomical phenomenon: a penumbral eclipse of the Moon.
This type of eclipse is called a penumbral eclipse (rather than total or partial) because the Moon will pass through the Earth's penumbral shadow, not the dark umbra. When this happens, the Earth blocks some of the Sun's light from directly reaching the Moon's surface and covers all or part of the Moon with the outer part of its shadow, known as the penumbra. Since the penumbra is much fainter than the dark core of the Earth's shadow, the umbra, a penumbral eclipse of the Moon is often difficult to tell apart from a normal Full Moon. However one of our talented students, Emil Cheriyan (Year10), took some impressive photos of the eclipse as it occurred that clearly showed the shadowing effect on the Full Moon, particularly evident in the bottom-right quarter of the image.
Unlike during a full eclipse, there is no 'Blood Moon' appearance. Although not so spectacular, penumbral eclipses are actually quite rare, occurring only about 9 times every century. Well done to Emil for capturing this one for us.
Emil also noted that the January Full Moon is called the Wolf Moon. While the almanac states that 'Wolf Moon' is a Native American name, other sources claim that it has Anglo-Saxon origins. In Anglo-Saxon culture, the January Full Moon was also called the 'Moon after Yule', Yule being the time of the ancient festival celebrating the Winter Solstice. So it's Happy New Year!
As long as Mr Steward's control over the weather has not diminished, he hopes to announce the date for our next Astronomy Open Evening featuring the school's Langley-Newtonian telescope – 28/29 February – please check emails for notification nearer the time.