Public Speakers and Debaters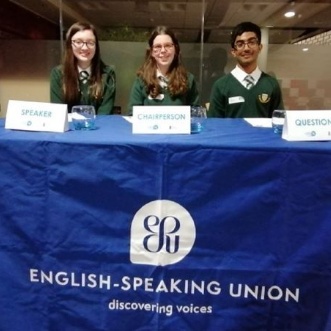 This academic year has been a great one so far for all our public speakers and debaters.
In mid-November our Sixth Form team of Emily Bickers, Alfie Dry and Emily Black won the final of their English Speaking Union's public speaking competition at The Perse in Cambridge. Alfie has gone on to compete in the ESU Mace – a national debating competition. He and his Year 12 team-mates Dermot Gray and Aidan Mayall have won through two rounds already, their most recent motion being curricular equality for the arts and sciences in secondary schools. They will be competing in the regional final, ostensibly the national semi-final, in February. We do not yet know their topic.
Last week an entirely new team, from year 10 – Bridget Martyn as Speaker, Nancy King as Chair and Leonel Jose as Questioner – represented the school in the ESU Churchill public speaking competition at West Suffolk College on the subject of the commercialisation of Christmas. They won the debate and were rewarded with a cheque for £100 and a place in the national semi-final at Magdalen College School in Cambridge.
In March we will be sending a sixth form team and a Year 9 team to Bury St Edmunds County Upper School to participate in the Rotary Club's local public speaking competition, at which we have won the coveted shield as well as individual team victories in past years. They are free to select their own subject matter, which makes this an unique opportunity for eager orators.
A new venture for us this year is also offered by the ESU, and it entails a two-minute introduction to three minutes of either a monologue or a duologue from any Shakespearean play. Martha Harvey is reciting Titania's speech to Oberon about the trouble caused by their arguments; Aoibheann Leighton- Scott is presenting a monologue by Helena to Hermia, also from A Midsummer Night's Dream, which has also proved so popular with our two pairs: Helena Peachey and Lilly Greer; and Sophie Docking and Ella Wray, all of whom are ideally cast in this comedy as a taller blonde girl (Helena) tries to defend herself from a smaller brunette (Hermia).
I am sure you will join us in wishing all of our speakers the very best of luck in their endeavours as they demonstrate not only their individual flair and courage, but the calibre of student we are so fortunate to teach at St. Benedict's.
Ms James