Coronavirus advice updates for all parents/carers (01/03/2020)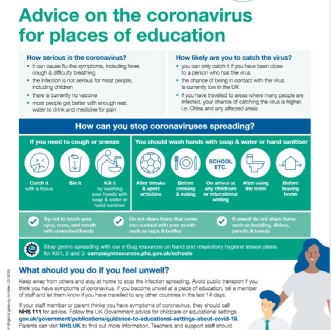 What this guidance means in practice at St Benedict's is that we will be asking all students to wash/ sanitise their hands on arrival at school, after breaks and sport, before eating, before they leave school and after using the toilet and follow good personal hygiene if they cough or sneeze. We will ensure that soap and facilities are available at school, however as alcohol-based hand sanitiser is now in short supply through most suppliers, it would be really helpful if you could send your child into school with hand gel if you have some at home as well as tissues as this will ease pressure on washroom facilities and sinks. The guidance also asks that students wash their hands before leaving home to come to school and we would ask that you discuss these measures with them.
As you will see from the poster below and current guidance there is no cause for general alarm however as a school we have been asked to bring in these measures to limit the potential spread of coronavirus and this is general advice issued to all schools.
With very best wishes,

Imogen Senior