Paris Art Trip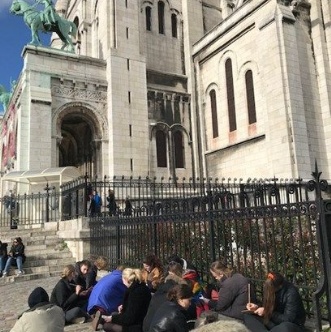 During the first weekend of the February half term, a group of sixth formers and teachers travelled to Paris for a cross-curricular school trip.
The Art, French and English departments joined forces and spent four days in the French capital taking in the sights but also con-ducting artistic endeavours, speaking the lan-guage and experiencing cultural emersion relating to current studies. Along-side the typical tourist sites visited such as the Eiffel Tower and les Tuileries gar-dens, we walked through the myriad medieval streets of le Marais and climbed the vertiginous steps of Montmartre all the while learning more about the city and talking to locals. Each day had a busy itinerary, including visits to museums and galleries such as le Musée d'Orsay and the Pompidou Centre, and stopping at shops and cafés for much needed respite and refreshments.
The sixth formers were asked to perform tasks relating to their subjects such as creative writing, recording art critiques in French and sketching drawings inspired by the countless works of art found in galleries and on the streets. Pierre Hornsblow in Year 12 even managed to sell one of his paintings he completed on the steps of the Sacré Coeur to a holidaying couple! It was a pleasure to take these wonderful students to one of the most beautiful cities in the world and have them experience the cultural offerings only capital cities can provide.
We will be presenting the writing and some of the art works in a display in the coming weeks so please keep an eye out for the fruits of our creative labours. Ms Chacksfield, Mrs Green and me would like to thank all who were involved in making this trip possible. Merci à tous et bon week-end.