Sixth Form Open Evening 19th October 2021 6.30pm-8pm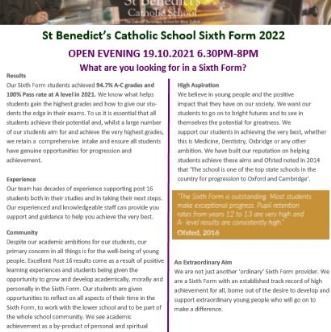 We are excited to be hosting our Sixth Form Open Evening on Tuesday 19th October 6.30pm-8pm for any Year 11 student considering studying their A-Levels with us. You do not need to book to attend.
There will be the opportunity to talk with our expert Heads of Department and current sixth form students, and to get a glimpse into life as a sixth former at St Benedict's. It is our intention to host this event in school, but please appreciate that if there are any changes to the organisation of the evening, we will inform you closer to the date.
In the meantime, please check out our Sixth Form pages on our website to find out more.