Cambodia Travels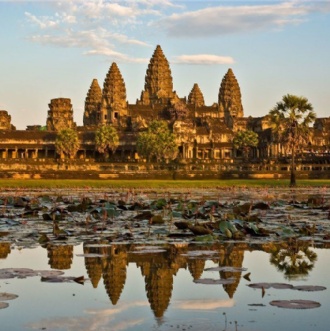 Below is the diary of our visit to Siem Ream, a town in Cambodia where the school hopes to develop its 20 year old partnership with the local church community. We sent two staff members to look for areas that would be of benefit to either partner.
Before we travel
Mrs Slater and Matt are packing their bags and checking off last-minute bits and pieces.
Over the course of the next two weeks, our itinerary is pretty packed:
We will start by flying to the Capital City; Phnom Penh on Wednesday the 8th Feb,
after landing late on the 9th we will do a few things in the Capital there are three 'tourist' destinations that we'll see - Cheung Ek (a museum about the genocide), the national museum and the Royal Palace. We will also be looking at accommodation (if the one we've picked out is no good), local transport options and making a rough plan for what our students would want to do in the capital city before heading north to Siem Reap.
On the 11th we'll take a long minibus ride to Siem Reap where we will meet with Fr Totet, our local contact who has been setting our visits up for us, we will then visit a number of rural schools, an orphanage, a farm and some other local projects. While we're there we will be trying to gather all the information we can to create a long-term, safe and prosperous project for the school for years to come.
If you were a student in year 12 and I told you that you were going on this school trip to teach English in rural Cambodia in the summer
What would scare you most about it?
What would you be excited about?
Email me with some answers, and I'll try to research those things while we're out there
10 February - Phnom Penh
10th February
Mrs Slater and I landed safely in Phnom Penh Airport at nearly midnight and took a short Tuk Tuk ride to our hotel, we missed the hours of check in but luckily the night porter was willing to let us in and show us to our rooms, he didn't speak a word of English which made it slightly trickier but we managed. The next morning we headed across the road for a bowl of Kuyteav for breakfast. Kuyteav is a common dish in Southeast Asia of noodles, meat and vegetables in a bowl of very thin clear gravy or soup, it's quite tasty but Mrs Slater is not a fan of meat in the morning, which made me realise that being a vegetarian out here could be quite tricky, gluten free even more so, I'll keep my eyes open to see what's possible.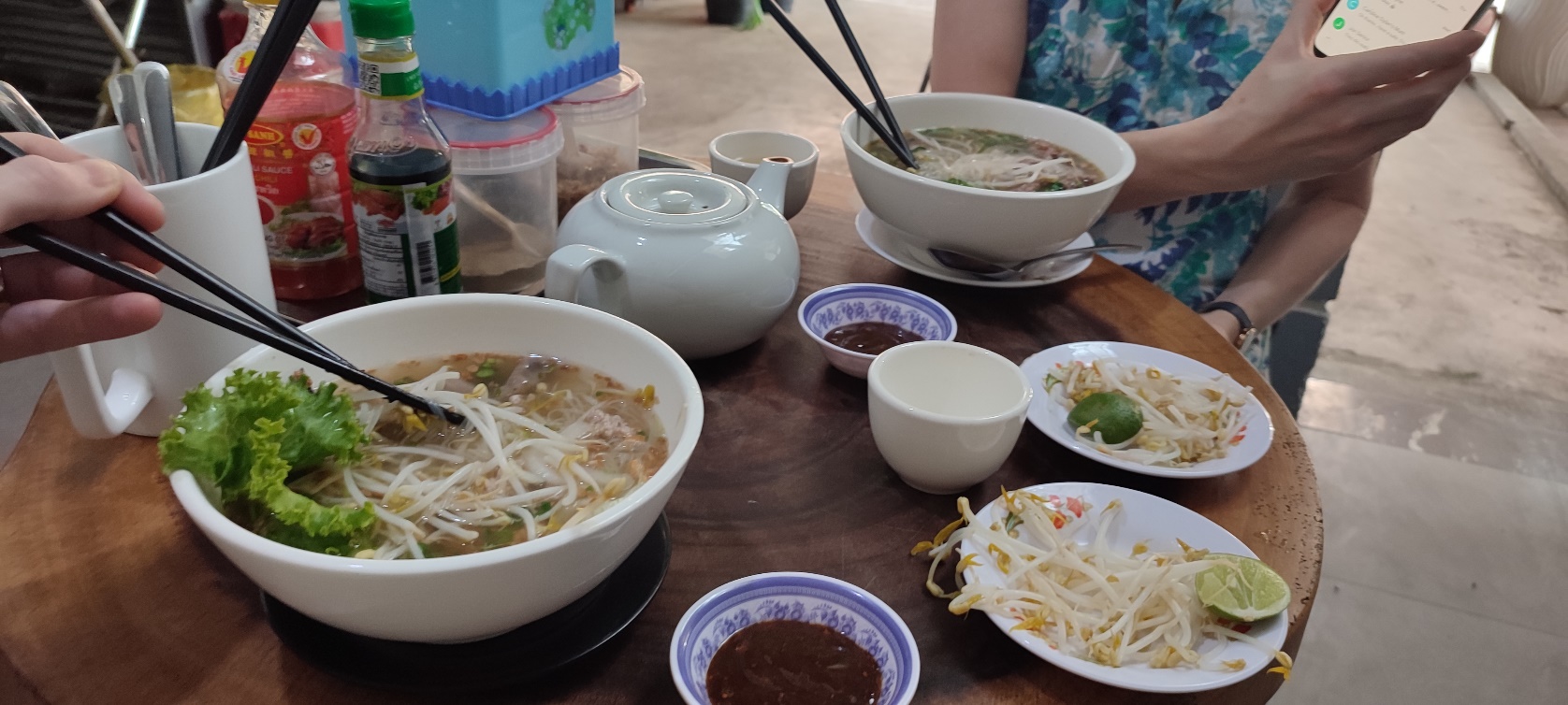 Kuyteav for Breakfast
We then ordered a tuk tuk to our next hotel nearer the centre of town using the Cambodian version of Uber, it cost 9000 Riel (£1.80) for a 10 minute trip, yesterday we paid $10 for a 5 minute trip! We had some learning to do!
The next hotel was much better for the same price, more of the basic things such as, a kettle, loo roll, bath robe, working wifi, just the simple things.
We were now ready to start our day, with an emotionally taxing visit to a museum called Toul Sleng, otherwise known as S21. S21 was built as a school, but when Pol Pot and the Khmer Rouge rose to power it was repurposed as an interrogation centre, where 'dissidents' were taken, interrogated and executed. The truth was that the victims of S21, and all of the similar security centres, had often done nothing wrong. Once they had been arrested the arrest itself was evidence of their guilt so no trial was necessary, people were arrested for pretty much anything including being educated, practicing religion or wearing glasses. They weren't only satisfied with arresting the one person, they would arrest the whole family. There were only 12 survivors of S21, out of between 12-20,000 prisoners.
The Khmer Rouge killed a quarter of the population in less than four years, through brutality and mismanagement of food. This happened in the late 1970s, and it's easy to argue that the country didn't really start getting back on its feet until 1993 when it had its first free election.
The actual museum was expertly put together, you walked through the buildings that had been used, whilst listening to an audio tour recorded by a person who lived during the period, he was calm and the tour regularly brings you back out into the beautiful gardens, it was hard to take in, but this is something Cambodians teach in schools, because the memory is important for them and they want it to be shared and not forgotten.
After visiting Toul Sleng, we went to get some lunch, we sat at a café and ordered something by pointing to a picture on a menu, another bowl of Kuyteav arrived. It was alright, but there were some strange things in it!
Our next task was to find something to do in Phnom Penh so that the trip with students is not spent looking for something to do in Phnom Penh. The Capital is not as 'touristy' as Siem Reap, we walked along some very interesting streets and also along the river, taking in the different street vendors, after a good amount of walking it became clear that Cambodia hasn't really got its tourism industry back online just yet, and cultural things to see and do are at Siem Reap. After a bit of discussion we thought a foot massage might be a good option, so we used Google to find the most reputable looking spa, and headed in that direction.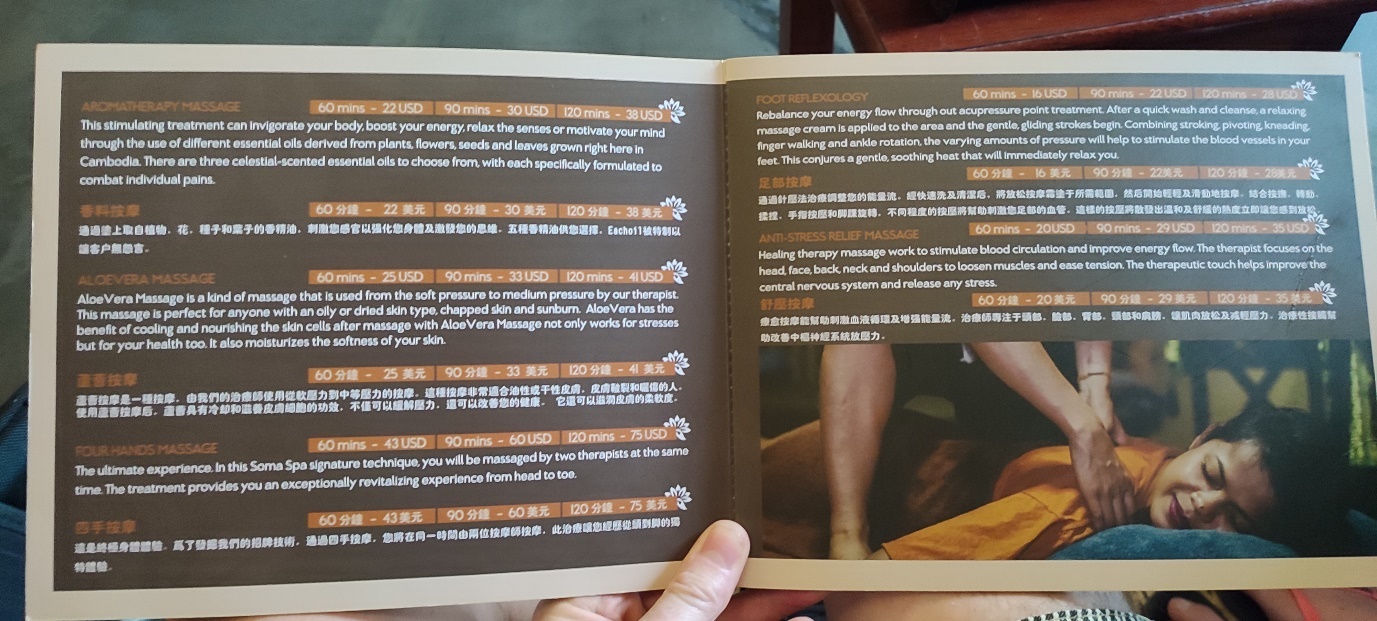 The 'menu' at the Spa, at the Ickworth Hotel 55 minutes is £100
At the Spa we were well looked after from the moment we approached the door, we were seated and given cooling towels for our faces and a menu of different massage services, Mrs Slater mistakenly used the face cloth on her feet (and then her face!) and we both talked ourselves into having a full traditional massage for 90 minutes. The massage after a long flight and a lot of walking was a great relief, and afterwards we had to really psyche ourselves up to be able to face heading back out into the noise, smell and business of Phnom Penh.
It was now 5pm and we stopped for a chat and a drink on the way to a great venue called the Night Market, the night market is exactly what it sounds like, a street market that is open at night, selling all kinds of things. The bit that made it more interesting was the live music and the food area. The food area was a large space covered in mats surrounded by food stands, Mrs Slater and I chose some unidentifiable food on kebab skewers which was then cooked while we waited and then we took off our shoes and found a spot on the mat.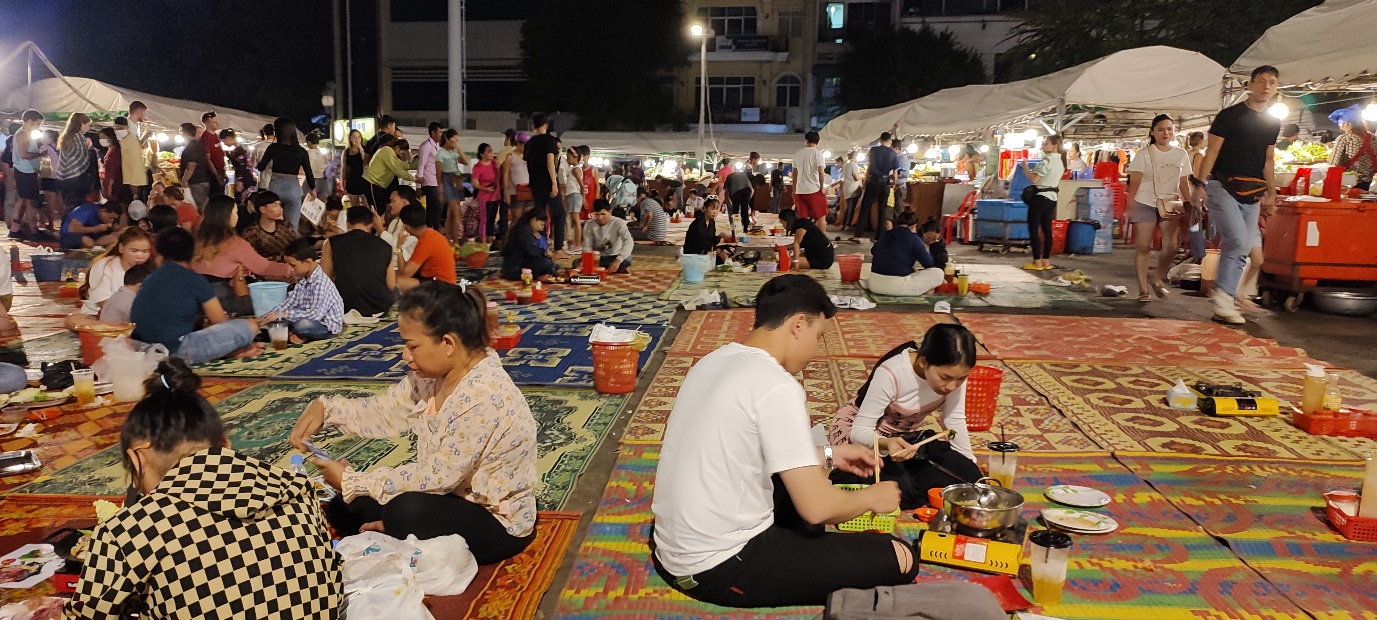 The Phnom Penh Night Market
After eating and taking in the market we were ready to head back, so we hailed a Tuk Tuk and went back to the Icon Hotel.
11 February - Travel to Siem Reap
11th February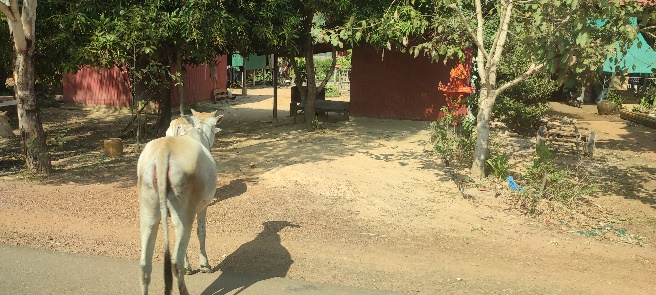 There's much less to say about the 11th, we woke up, had another bowl of Kuyteav and went to the bus station. The bus ride was fairly uneventful, we travelled down the No. 6 which is one of the main roads in the country, equivalent to the M6 in the UK. This road was tarmacked all the way from Phnom Penh to Siem Reap and in good condition.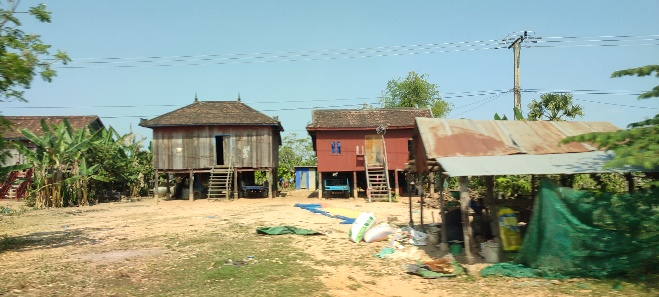 A view from the window as we travelled up Route 6
However, it feels like there is more to say about the rules of the roads, or lack of them. The rules Mrs Slater and I can see are that you drive on the right, (mostly) and beep your horn to let people know you are there.
In the UK we have many laws that don't seem to exist out here, such as seatbelts, indicating, rights of way, stopping at red lights, mobile phone use whilst driving, however, despite the lack of application of these laws we haven't seen any crashes yet!
Either way, our driver avoided the cattle on the road and raced us along to Siem Reap, where we relaxed at the Baahu Hotel, before heading to Mass where we would meet Fr Totet.
For Mass we were sat on the floor but, because it was the English Mass, it didn't feel hugely different from a normal Mass you might attend in the UK, there was a dog we met who stayed for Mass, we later found out his name is Milo and he attends every Mass with Fr Totet.
After Mass we met Fr Totet, Fr Jakub, Phen, Yan (who is a student there), Beatrix, a Korean priest who's name I can't remember and another couple of students, we sat and shared a meal, there was a lot of laughter and good conversation, everyone's English was very good. The church is only 20 years old because it did not exist during the civil war due to the banning of all religion by Pol Pot, this means that all the priests in the parish are from abroad, and they are helping to help rebuild the community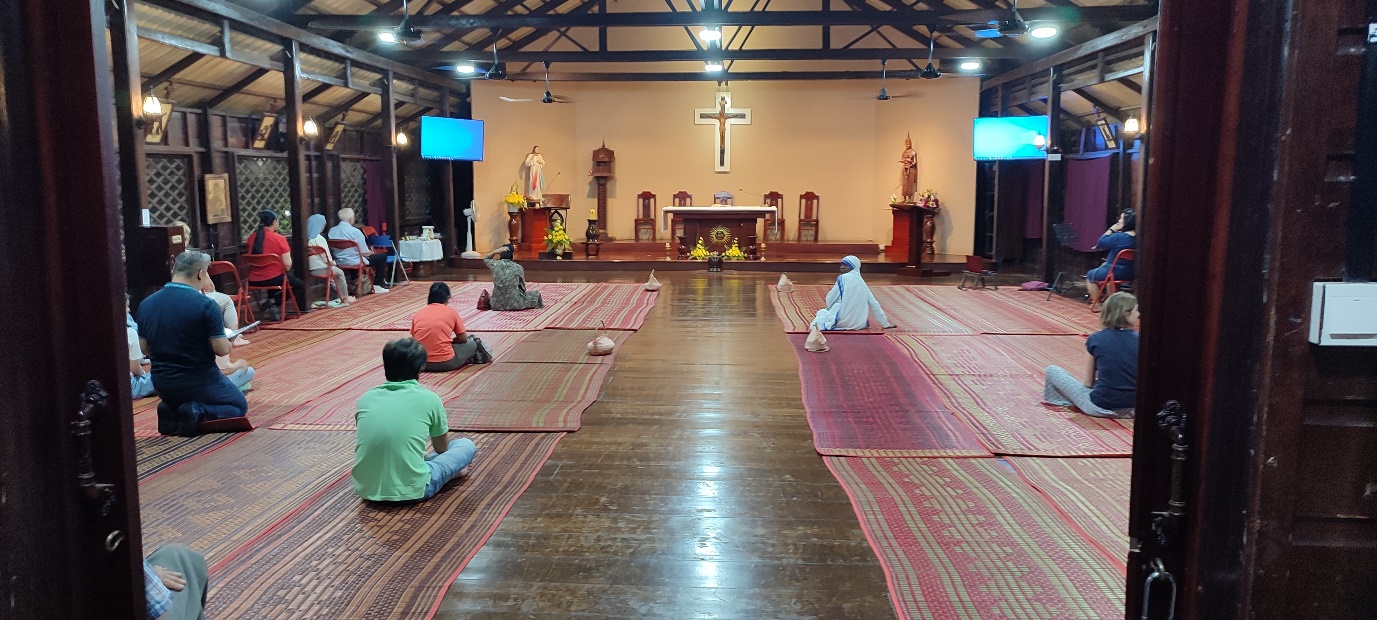 A few minutes before Mass begins in St John's Church
After a few joyful hours we made our polite excuses and walked the 30 minutes back through the town and to our hotel.
12 February - Prek Toal, The Floating Village
12th February
This morning we picked up some breakfast to go, and headed to the parish, from there we were taken with Fr Jakob on his normal trip to the Prek Taol floating village, a group of houses floating on the river whose inhabitants survive by fishing in the river. This is one of those things you hear about and think, a floating village but then can't really comprehend what that means, it's not until you talk to the people who live there and spend time with them that you can appreciate how ridiculously different their lives are, especially for the children. Their livelihoods depend on the fish and at least one family member will spend the day in the only family boat fishing. This means that those not involved in the fishing are left on the family boat which is probably the size of most people's front room and have no way of going anywhere else, unless they swim, this means that many children spend a lot of time on a small boat with their mothers.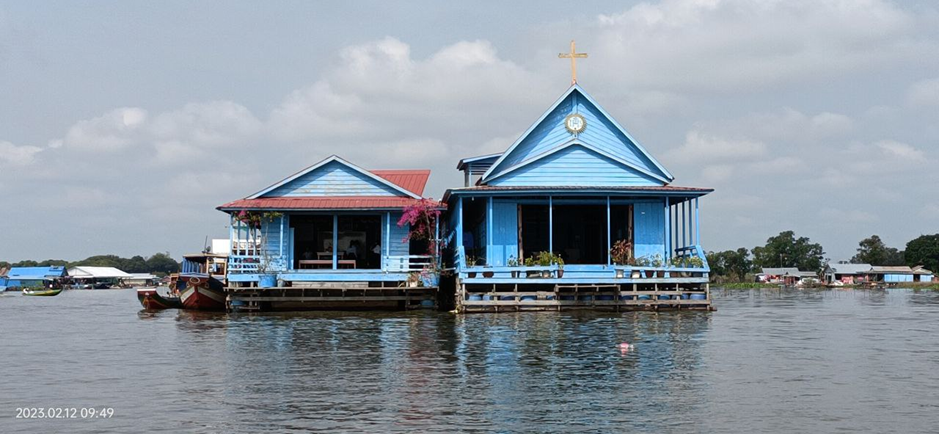 The school house
The boats are not very big so the children can't run around, and they don't have playstations, this goes some way to explaining why those who go to school are so eager to learn and happy to be there.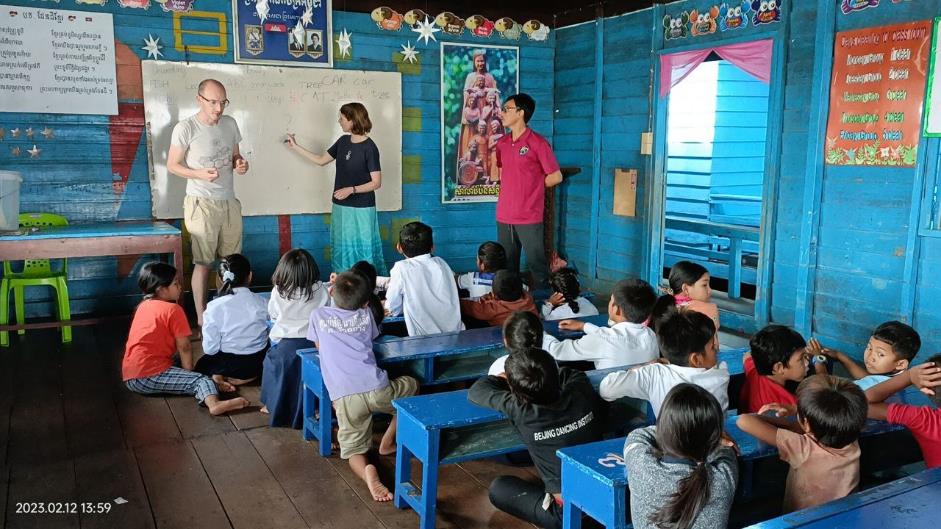 Matt, Mrs Slater and Jivioan teaching some English
We were welcomed by the teacher on the boat and the children who were very excited to meet us and wanted to practice their English. We then joined a Mass in Cambodian, so we didn't understand a word, but that didn't matter too much, it was interesting to experience. As we sat on the floor at the back behind the children we tried our best not be too distracting but that was difficult and a couple of children played small, quiet games with us at the back. It turns out that many of the children are Buddhists but were happy to come to extra school on a Sunday. It was nice to learn that these children don't go hungry at home, but are attracted to the building because they like to play with friends.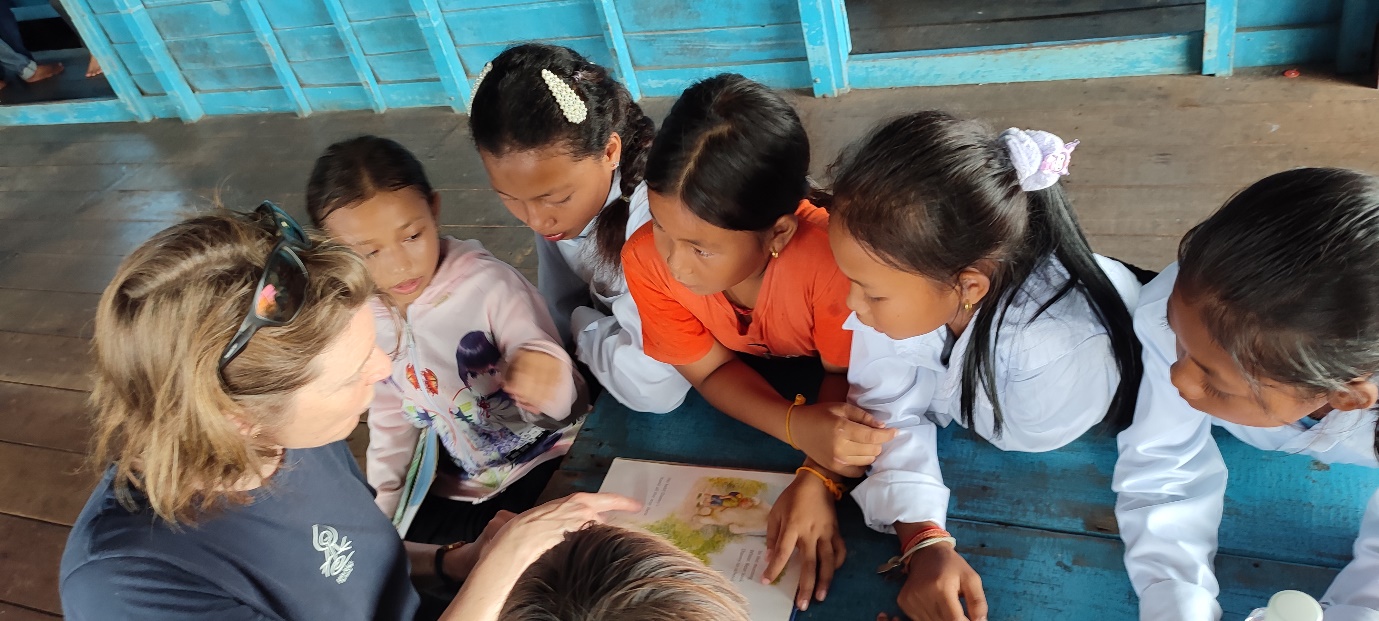 Mrs Slater reading with the students
After the Mass we were asked to teach the children some English, as there was quite a broad range of ages and abilities we decided to use songs which made the lesson fun but it did subject them to our not so great singing. It was lovely to see them all so eager to learn, especially as it was a Sunday and an extra day of lessons for them. We then shared lunch with them which consisted of…. you've guessed it, fish, lots of fish!
Back in Siem Reap after a much needed shower (it's about 34oC here, so you sweat a lot) we headed out to explore pub street which is a tourist novelty street where you can have the dead skin removed from your feet by fish, and sample BBQed tarantula and snake, you might be surprised to learn that Mrs Slater and I didn't indulge in any of these attractions.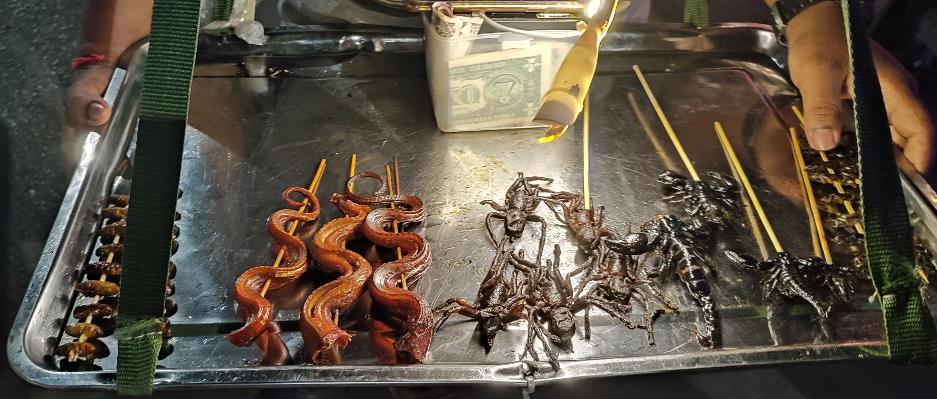 Food I'm trying to convince Mrs Slater to eat
13 February - Angkor Wat
13th February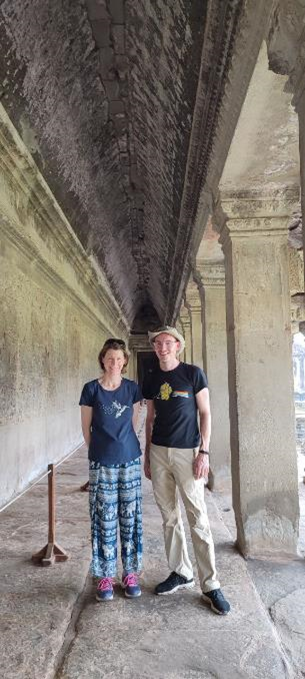 Today was 'temples day' and we started with the biggie, Angkor Wat. We were lucky enough to find an amazing guide as we were walking to the temple, he was very engaging with excellent English, it was also interesting to learn a bit about him and where he had learnt English. Angkor Wat would be impressive for its size alone but when you add in the detailed carving and try and imagine how they built it 1000 years ago it is awe inspiring.
After Angkor Wat we moved onto Bayon Temple with our lovely tuk tuk driver, who mostly liked to laugh at us when we appeared looking very hot. Bayon was much smaller than Angkor Wat and in a more ruinous state but still interesting to have a wander around.
The final temple we looked at was Ta Phrom, which is a beautiful space, the temple was ruined and has been partly restored, but the trees that are growing in the midst of the bricks have been left in pace and, if necessary, protected. The sight of these huge trees rising out of the ancient place of prayer gives a striking tranquillity as you walk through and around them.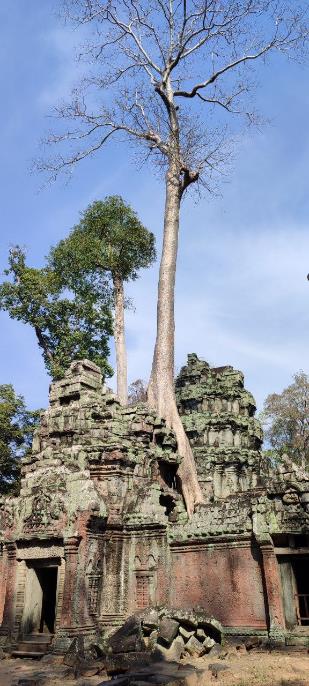 Although these and the numerous other temples are the core of Cambodia's tourism we didn't really stop for long as we could have done, as this isn't the purpose of our stay, we had found an enthusiastic and engaging tour guide and exchanged contact details, we could tell this would definitely be part of any future visit, and so it felt like a job well done and back to base.
Back at the hotel we had a new task; find more suitable food and lodgings for future years, we'd by now realised that buying an entire bunk room wouldn't be practical and our hotel was more expensive than it needed to be. Within a few minutes we'd found a place that would cost around half the amount which had equally good rooms, but better facilities. Google can be useful, but sometimes going out and looking is just better!
We came back to our hotel and prepared ourselves for another day meeting students, this time in a stilted village and an amazing student centre community which intensively supports its members.
14 February - Kompong Khleang, The Stilted Village
14th February
This morning we picked up another breakfast to go, and from our usual shop, the day before I had got some money from an ATM machine, but that meant I didn't have change only $100 bills, the breakfast shop is by far the poshest place we go to so I tried to pay for two breakfasts with a $100 bill. Breakfast for 2 costs $2.50, it took the team a lot of effort to find $97.50 from numerous places, but after 5 minutes or so they had managed it! We then headed to the parish to meet Fr Jakob who was driving us to our next destination, Kompong Khleang. On the way, we picked up a man called Siteem, who was very friendly, and Sr Portnip who is an amazing woman, she often visits this village and the school and helps with the organisation there.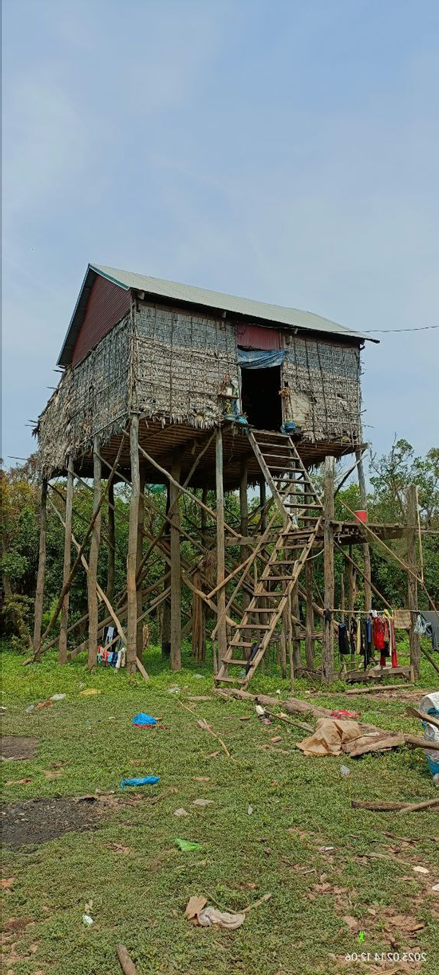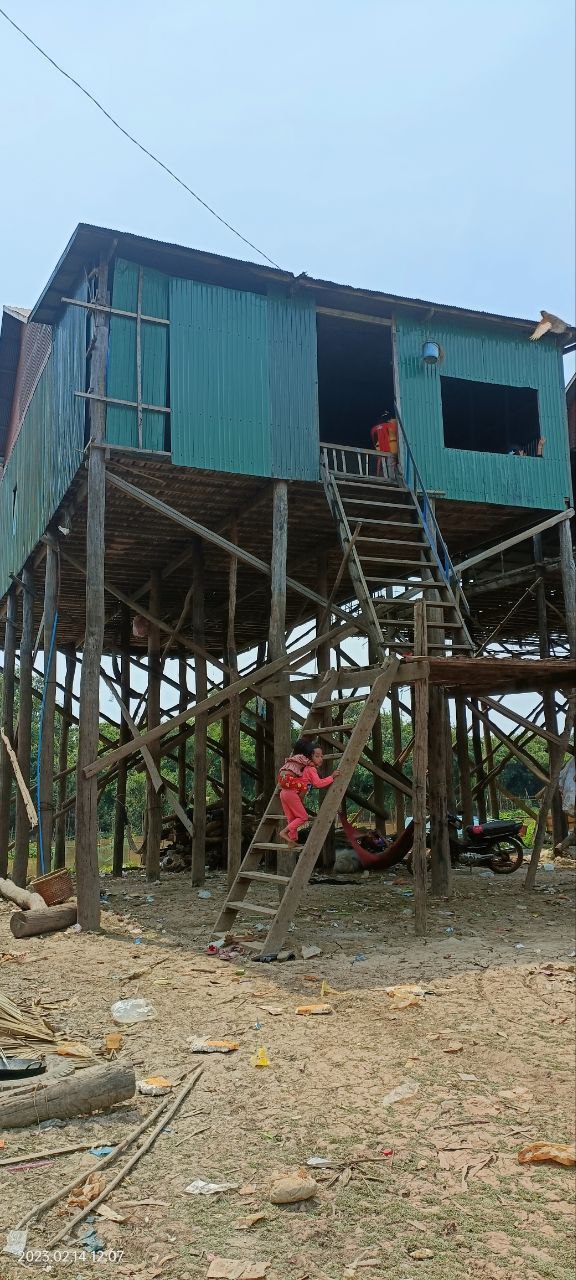 Huts in the Kompong Khleang village, the banana leaf wall is more expensive than the steel!
The school in Kompong Khleang is a single classroom on top of tall stilts so the building is above the water in the wet season. It is now the dry season so the water level has dropped so we could drive all the way in the car, through the town of Kompong Khleang, which seemed like a very impoverished community. Many of the shacks were big but because they are so high it's hard to tell how poor the community was, but it's in communities like this one that many children don't get any sort of primary education.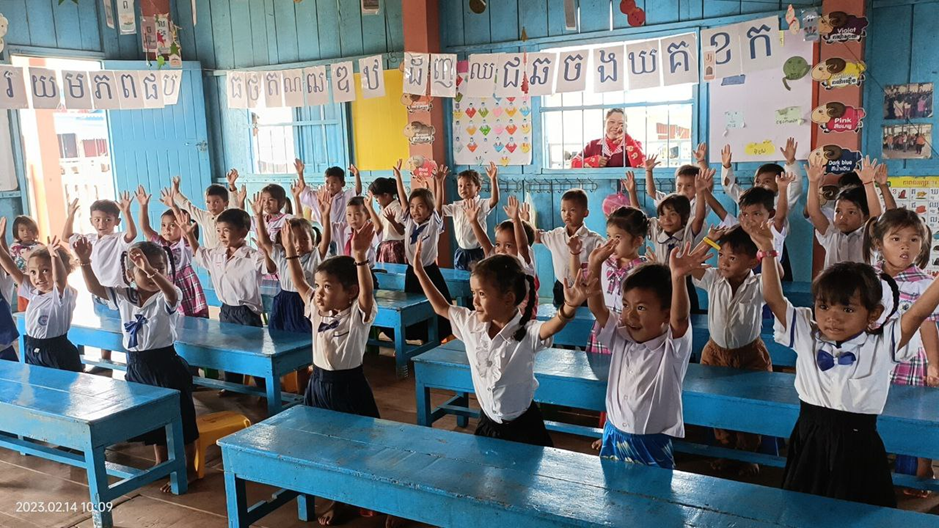 Playing a simple action game of copy and speak the English word.
We climbed the stairs to the school house where we found Chun Aeng teaching 5 year olds, it was immediately clear that the students were lucky to have such a good teacher and were enjoying their lesson, but once again Mrs Slater and I were given the whiteboard and pen, and asked to do some teaching. We felt more ready this time and led the students in some copying of action words with actions, very simple words like up, down and clap with probably less than 10 words in total, but they joined in and enjoyed the game, we then sang the ABC song a few times, and went back to the actions which they seemed to be much stronger on this time. We tried to test their knowledge at the end and they were OK at being able to remember the action that went with point or up.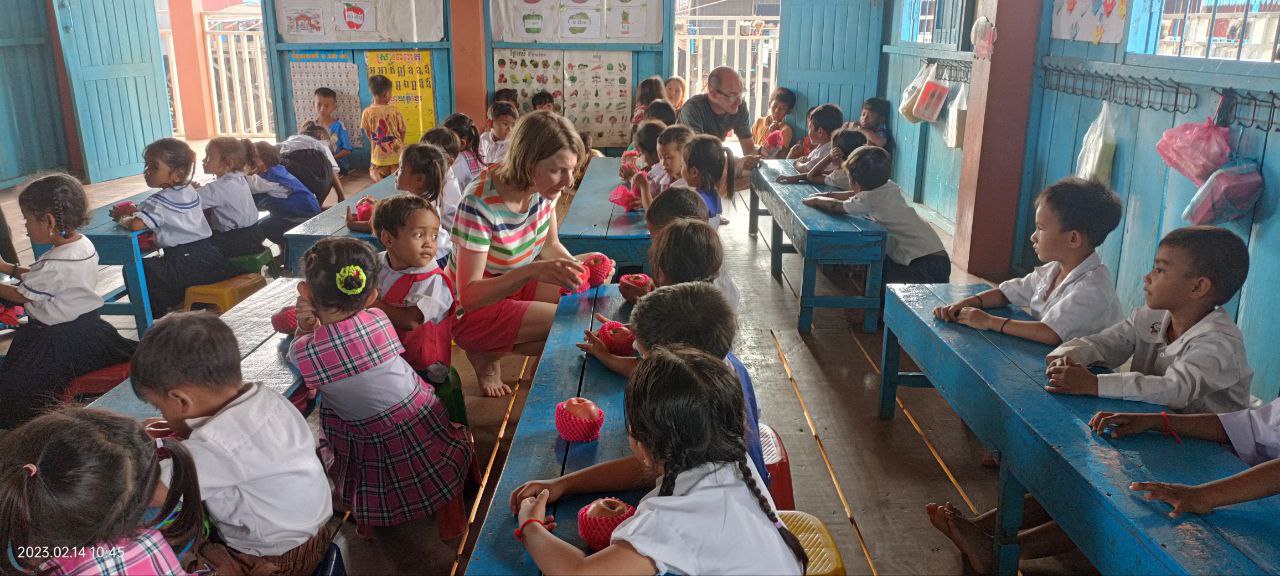 Practicing 'hello,' 'please' and 'thank you' with the students
We had fun but this visit had raised questions for us, in the locations where there wasn't an English teacher to invest in, was there any benefit to us visiting at all? The best way we could Perhaps the best way to help here would be to financially support the expansion of the school, they had decided the cap the class size at 30 students to ensure a good education was delivered, but there are far more than 30 in the village who can't get to the nearest state school, and the school was run on a first come first served basis, with a number of disappointed students not accessing school.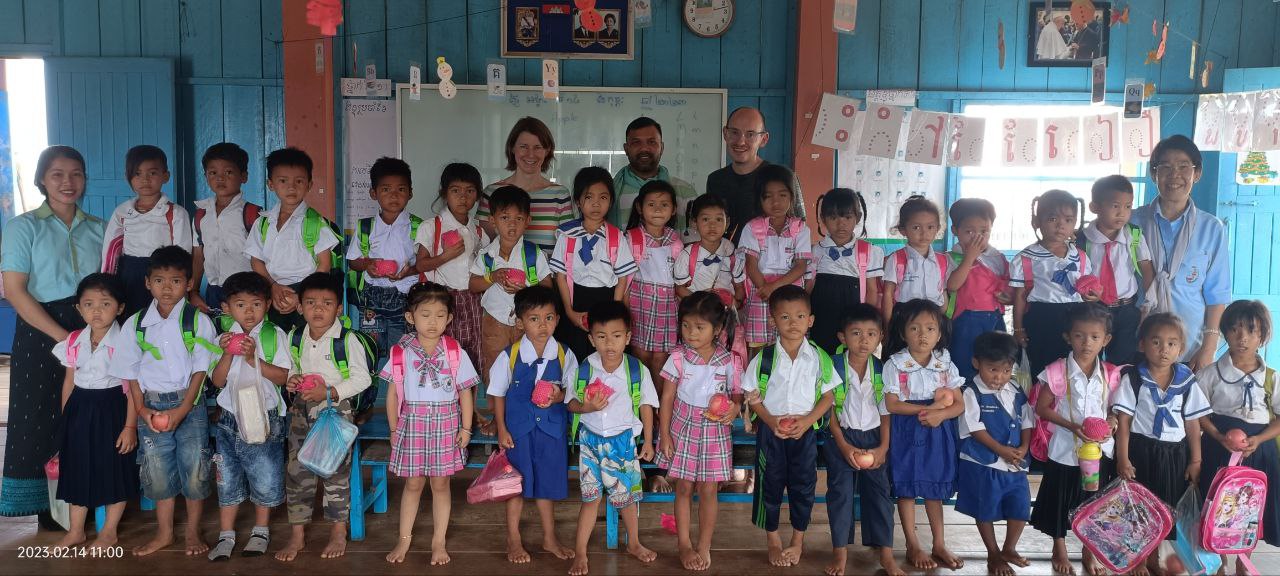 The class of 2023 Chun Aeng on the left, Fr Yakob in the middle and Sr Porthnip on the right
On the way back we had a number of questions, the village has 2000 families in it, the school costs around $4000£3500 a year to run and the initial outlay of a new school building wouldn't be cheap, perhaps £25,000, because it would require more concrete stilts for the house to sit on.
That evening we visited a wonderful project, 23 students live in a community centre together, there are 14 girls and 9 boys housed in dorms aged 16-23, with good cooking and recreation facilities (still no playstations) from there they attend the schools in the town, based on their ability and age. From what we could understand, Sr Pontip in her visits to the primary schools in Prek Toal, Komong Khleang and others will sometimes identify a student who is bright and willing to learn but comes from a more disadvantaged background, she then meets with the family and offers the student a kind of scholarship, I think all of her students go to university and have the capacity to do great things in Cambodia, really being a part of its rebuilding.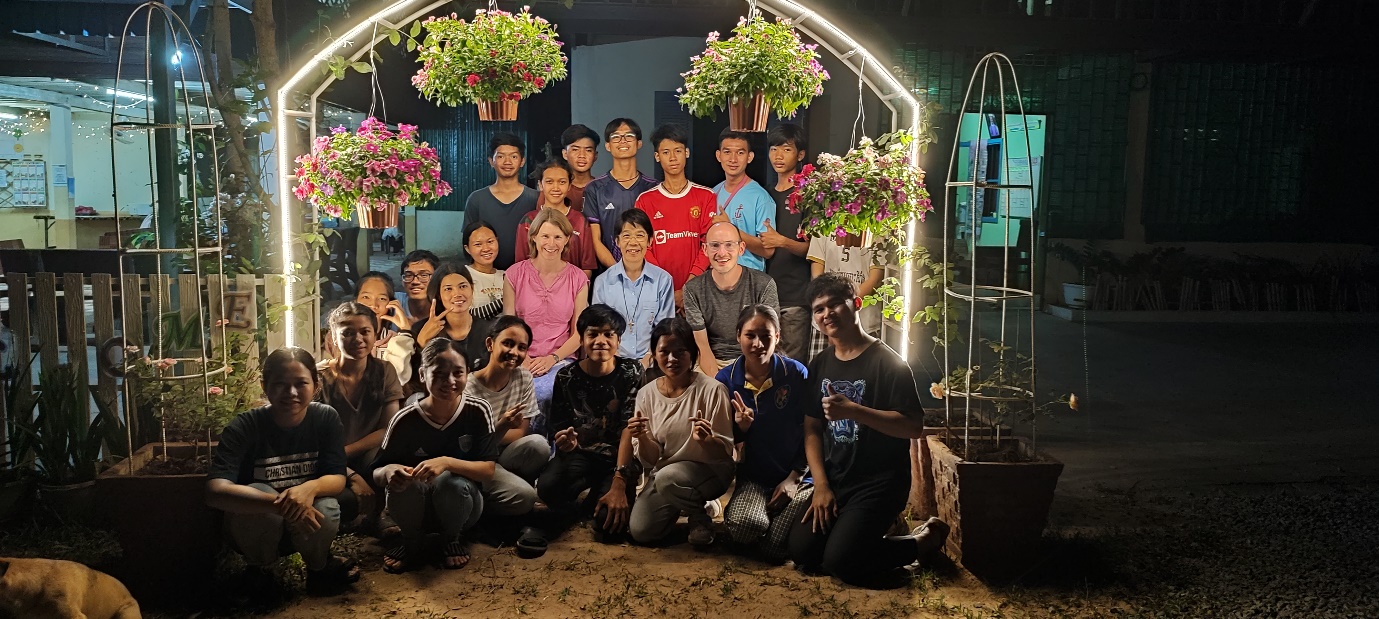 The students at the Student Hostel
The students in this community were amazing; very welcoming, very kind. After we ate together they delivered a presentation in English, sang songs, and finished the night by training us in some traditional Khmer dancing, they were a delight to be with, and we had a fantastic evening.
15 February - Piak Sneang
15th February
In Cambodia, card payments are rarely accepted and even hotels struggle to give change for large notes. Ideally, we would set up a Cambodian ABA account for future visits so we can use their QR system for paying, but that's been tricky as we are not resident in Cambodia. This left Mrs Slater trying to check out for twenty minutes while Matt grabbed our usual breakfast to go. Once the hotel had found our change we headed to the parish to meet Fr Totet. This time we were off to PS9 a small school in the village of Peak Sneng the journey was quite slow because we had to go around the temple area, as you have to pay to go through it unless you are Cambodian. The road we used was still being built but instead of it being cordoned off and having to use a different route, we just drove through the half-laid road, sometimes weaving between large road building machines. You might think that only 4x4s would be suitable for this but there were plenty of mopeds and bicycles wending their way through the mud and rubble.
We arrived at the centre at about 9.30am where we were shown the buildings and introduced to the people who work there. The centre is used for a number of projects including a primary school, centre for disabled to work on projects, women's centre and literacy for adults. It's wonderful to see so many disadvantaged groups being supported. There were two classrooms with around 15 students in each, one was for reception and the other year 1. We observed the lessons for a bit but then it was break time, so we helped the children with their boiled egg snacks. After snacks it was break time and Mrs Slater found her calling in life; she had brought a tennis ball with her and spent an hour playing catch with the children and what started with one child turned into a game with 10 students where they were practicing their English. It was wonderful to see how powerful play can be and the fact that although language was a barrier, it didn't stop a game being created. After the children left we had lunch with the members of staff at the centre.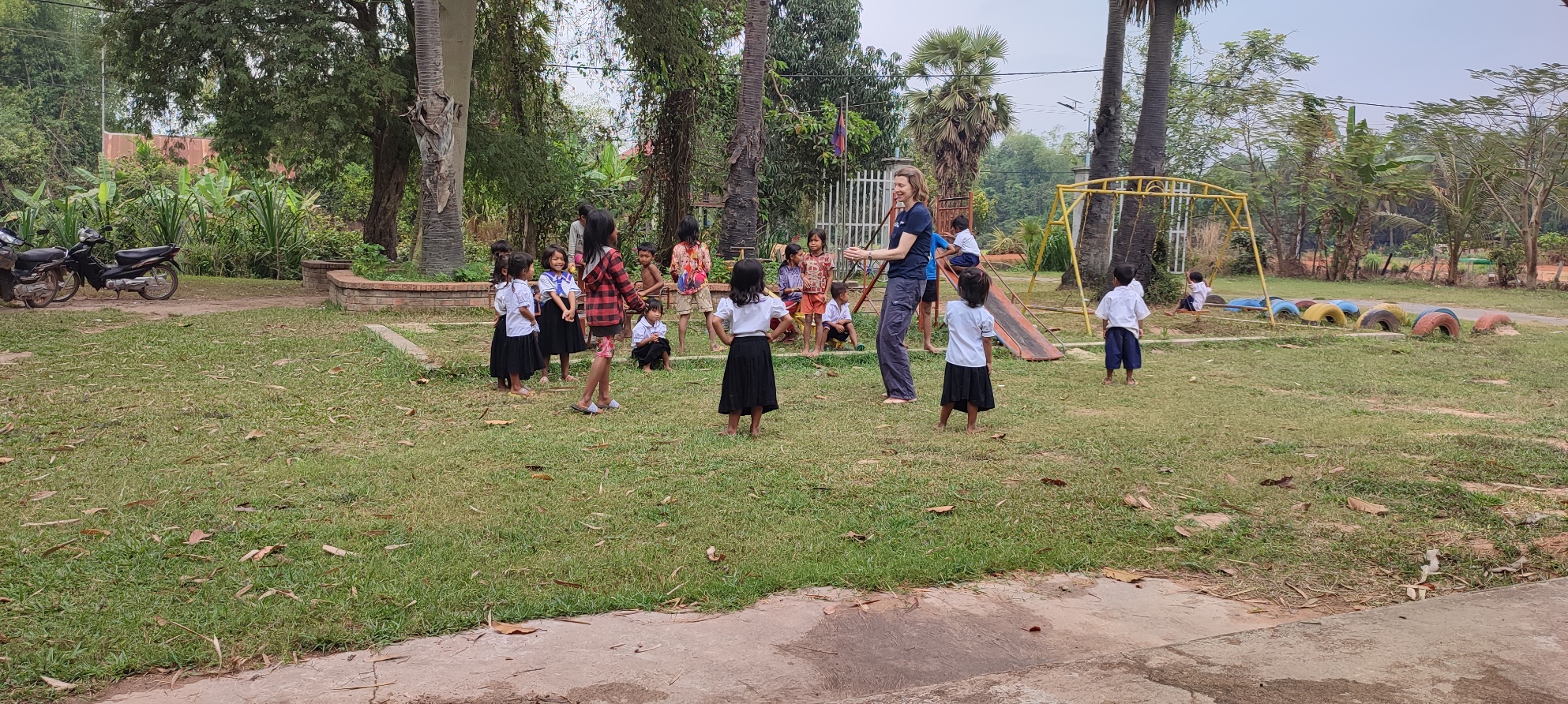 Mrs Slater playing catch, which the students seemed to love
We then travelled out to Jesus Farm about 10 minutes away, it's a beautiful relaxing retreat just outside the Peak Sneng Village, the building has very recently been refurbished with 3 large rooms downstairs and 4 reasonably sized bedrooms upstairs, it could serve as a place for students to stay during their visit to Cambodia, especially if their work was based in PS9.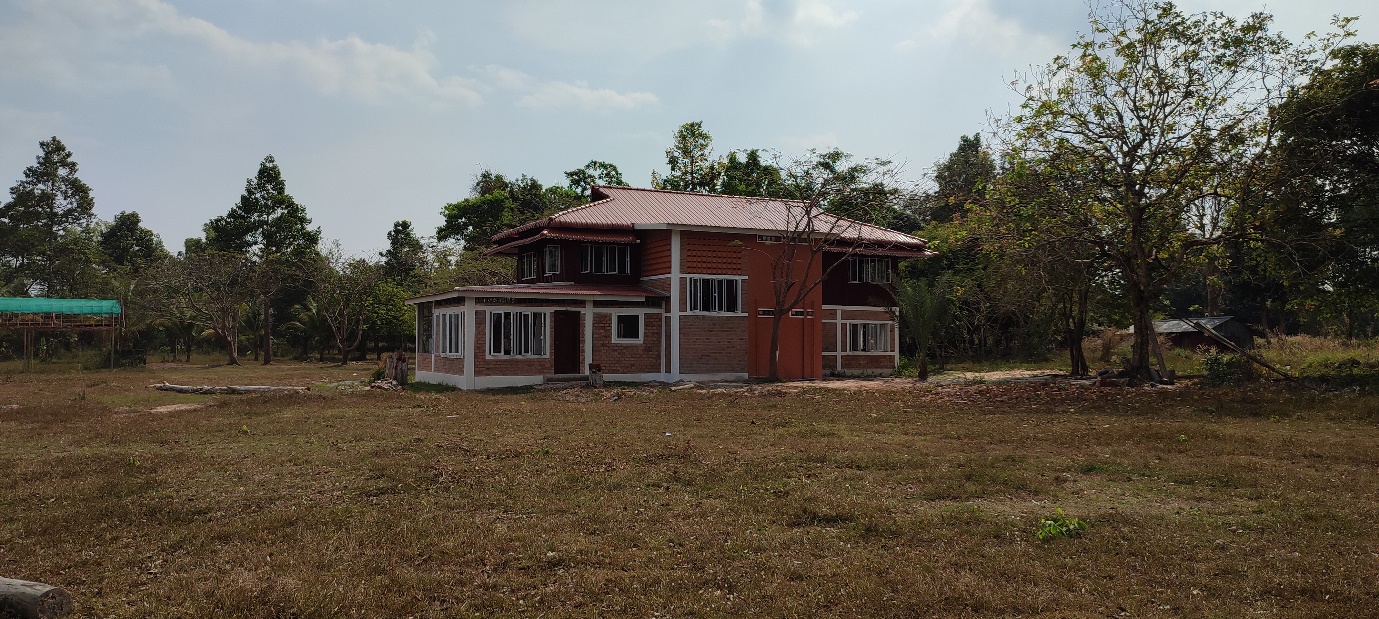 Jesus Farm
Having been led to believe that we would be roughing it at Jesus Farm, this was not the case, there were beds, mosquito nets, indoor toilet and shower facilities, in fact more like a very quiet hotel, so it was not a chore to spend a night there.
16 February - Jesus Farm
16th February
We were woken by the Cambodian dawn chorus, which is not birdsong (they've eaten most of the birds) but cicadas, and they are a noisy lot when they all start together. After enjoying the sunrise with Fr Totet (it was the first time he had stayed at Jesus Farm) we were treated to a European breakfast, which was pretty exciting, with our fried eggs we had bread, butter and honey! We then set off for our guided walk with Ray. Ray is a Philippino entrepreneur who works with a number of not-for-profit Non-Government Organisations (NGOs), he also works closely with Fr Totet's group, in fact he was the founder of Jesus Farm (we forgot to ask him if he had named it!). He showed us how he had invited people to the area to farm the land but realised they were travelling too far, so he built some houses for them (cost about $9000 per house) which they would rent to buy, so should own the house in about 14 years. Interestingly, even though these houses are new builds, they didn't have indoor plumbing or 24h electricity. The houses did have a clean water tap in the garden which brought water from 40m underground and solar power, once they owned their home the hope is that they will then save to improve their homes. We also walked around the farmed areas, which really interested Mrs Slater because she lives on a farm and found it fascinating to compare to British farming. Ray and Mrs Slater were able to discuss how they would use different methods to achieve a similar goal, and Matt learned a lot about inter-cropping, nitrogen content and volunteer plants!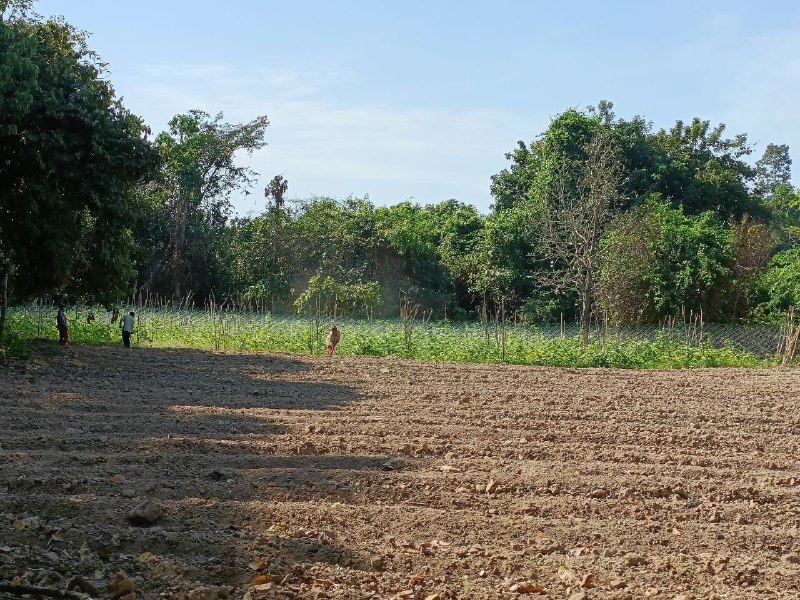 Farming on Ray's land
We were then fed again by Fr Totet, who took to the kitchen during lock-down and now loves cooking for people, he never accepted help and always produced a large quantity of food. It was great to sit down and share a meal with Totet, he has a way of bringing people together that means he's rarely alone (there were 9 of us for dinner, because he invited his neighbours to join us). During any discussion you felt like you were learning without having to put any effort in, and there was always plenty of laughing.
We were then back to Siem Reap having survived the snakes and lack of air-conditioning, we were proud, brave westerners!
17 February - Kulen Waterfalls and Cliff
17th February
Today we broke from the schedule, once Fr Totet had discovered that today was Matt's 40th birthday he suggested that we could squeeze in an extra stop and visit Kulen waterfall. But before that we would take a trip to the JRS reflection centre, to meet Sr Denise and see the retreat centre that we might want to use to run events in Siem Reap. Sr Denise Coghlan is a Nobel peace prize winning force for change, she arrived in Cambodia in 1988 while the country was still gripped by unrest. She worked to transform the culture around landmines. From the fall of the Khmer Rouge in 1978 to the first elections in 1993 landmines were intensively used across Cambodia, not just by militia groups but also as a form of personal security. This means before going to bed people would put landmines in the garden to keep looters away. The situation is made even worse when you include the local beliefs around Karma, which meant that if you stood on a landmine it was probably because you were a bad person, and the victims would then be shunned by the community. Sr Denise received a Nobel peace prize for her tireless work in 1997.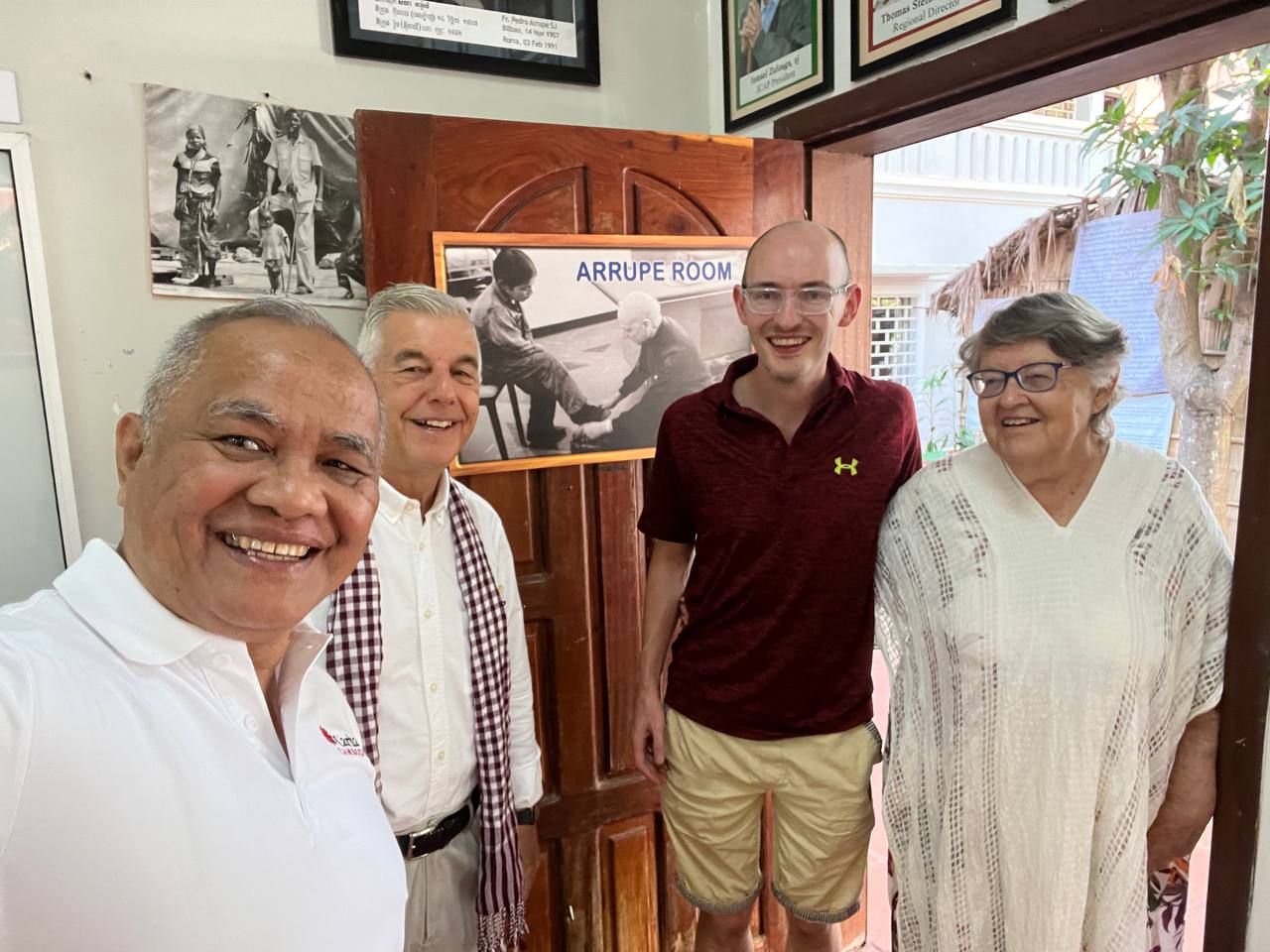 Fr Totet, Bishop Kike, Matt & Sr Denise
We walked and took in the grounds and imagined some of the ways that our students could use the space. As we were walking we were met by Bishop Kike who came to say goodbye, but somehow we welcomed him for coffee and learnt about the history of the centre.
We then returned to the church, picked up Siteem, Fr Glenn and Fr Yacub, and headed into the jungle and up Kulen Mountain to find a waterfall which is a popular rest space for the local Cambodians. We picked a pagoda and drank fresh coconut and ate lunch. Lunch consisted of 4 whole fish, a whole chicken, a plate of Morning Glory (really), and a dish I don't know the name of.
After food the younger people went to look around while the older men snoozed in a hammock, there is a waterfall which it's easy to lie down in while the water gives a surprisingly good massage, and then at the lower falls its beautiful and you can swim in the water at the bottom of the waterfall.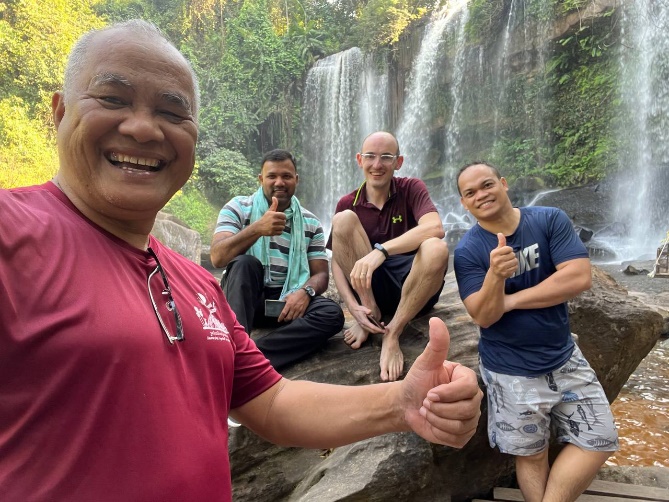 Kulen Mountain Waterfall and Cliffs
After a restful afternoon we headed back, on the way down the mountain Matt was able to introduce the group to a new spot they'd not seen before, an impressive cliff edge which overlooks some truly spectacular Cambodian landscape.
In the evening we visited the JSC Youth Centre, which is a building donated to the church that they currently use as an after school club for students who are in the local area, again we were fed (there's a theme developing here) and we met Leah who runs the centre with her husband Map. The centre is simple, but there is a really positive relationship with the local youth.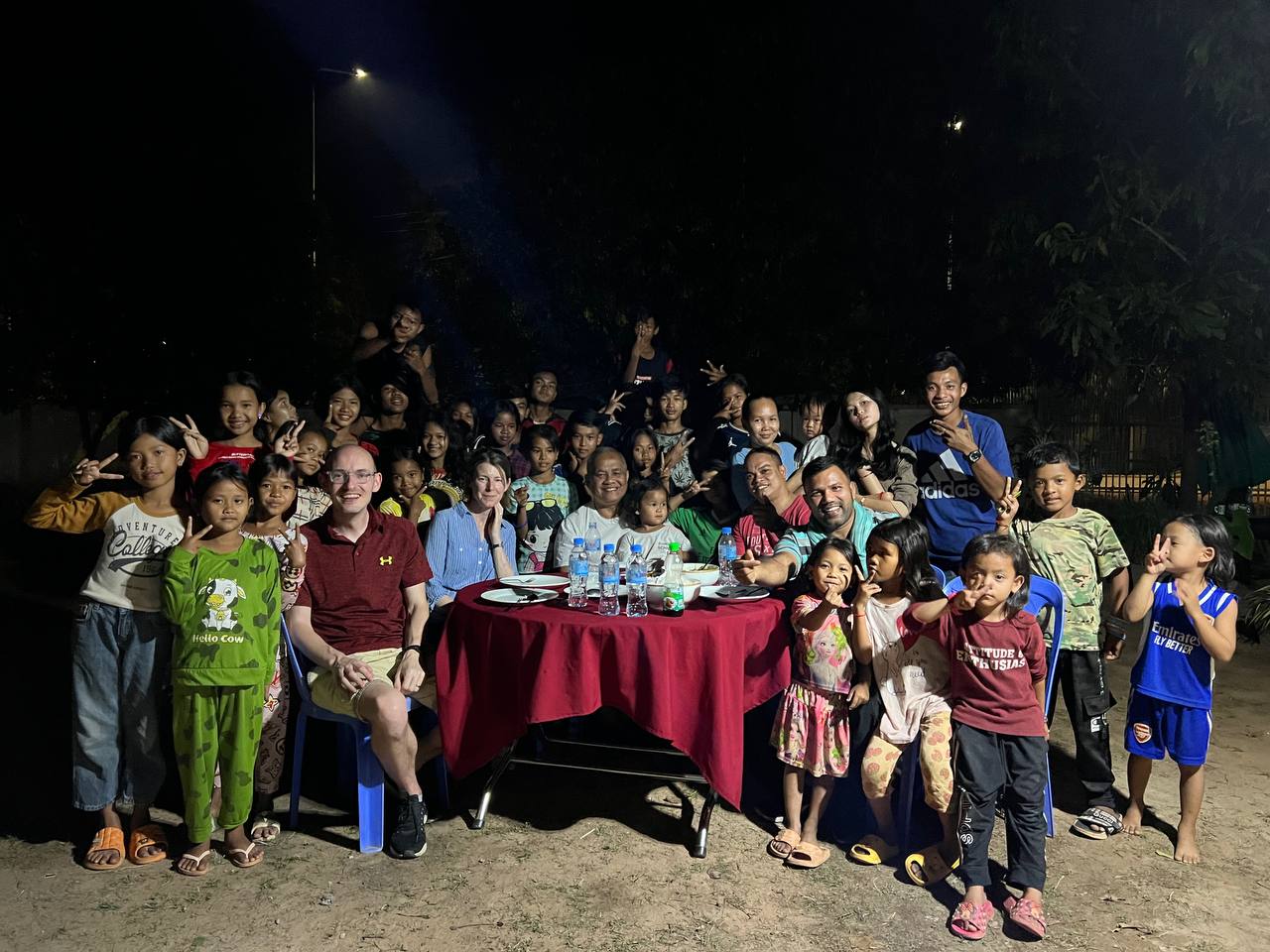 The children at the Youth Centre after school club
18 February - Ta Om
18th February
A slightly later start with Fr Glenn this morning who is taking us to Ta Om. On our way to Ta Om we stopped at what has to be the most Western place we have seen so far, a café on the side of the road, it was built of steel and glass (not concrete), had an interesting design (all the other buildings are either square or rectangle with not a curve in sight), we bought really good coffee and amazing chocolate cake, it was slightly surreal to be in a place like that and look out of the window to the very basic farming that goes on around here.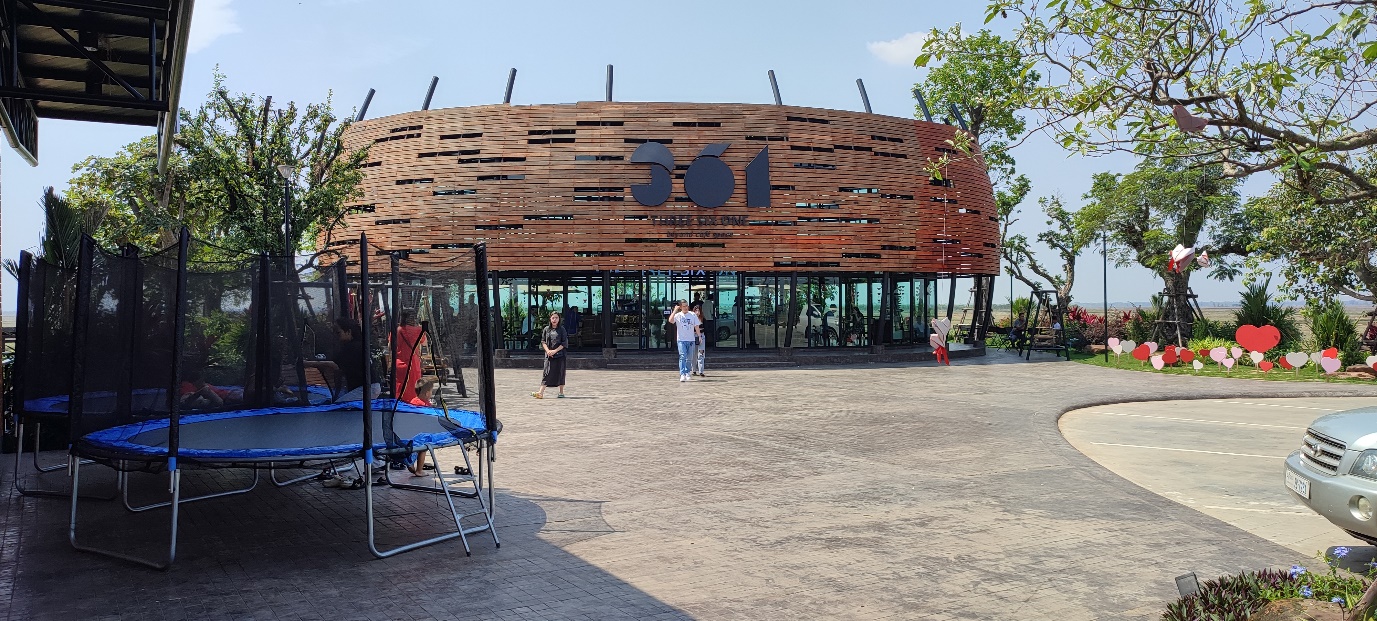 the most western looking coffee shop in the middle of absolutely nowhere!
We arrived at Ta Om which boasts a real church built from stone and is 140 years old. They have obviously done some work on it since the civil war though because the rendering is quite new but they left the patch around the door to show all the bullet holes left by an the gatling gun of an Apache helicopter, it's quite a sobering image.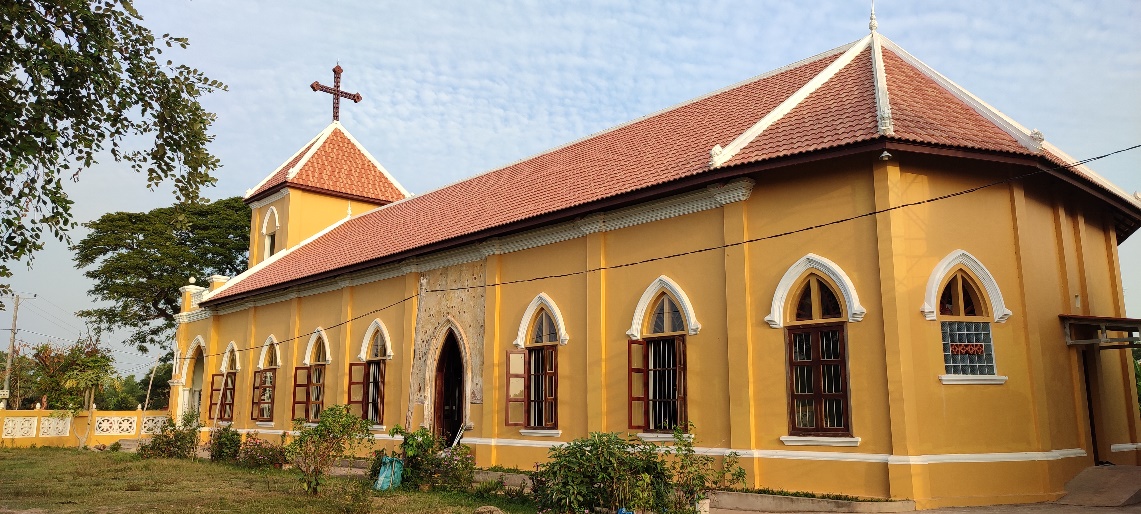 The Church at Ta Om
It hasn't taken us long to work out that Fr Glenn is the joker in the pack. He has been threatening that we will be sleeping on the floor with an outside toilet surrounded by snakes, the truth is a long way off this, we arrived and were shown to our rooms, which have an en-suite toilet/shower in them, and a bed! Mrs Slater has lugged a large roll mat across the world for no reason! Also, not a snake in sight and this is mostly because as soon as they are big enough they are eaten, literally anything that moves here, is fair game for a meal.
We were then introduced to the community and fed again, every time we arrive anywhere we are fed, which is the Cambodian way to welcome you to a community and it's lovely even if we are always served rice and some watery soup with stuff in it. After lunch we were asked to teach, there was a larger number of students so we were separated and had to manage without interpreters on our own. Matt took the older students in the outdoor space, and taught some action, including directions like (up, down, left, right) using some simple games in a circle, we've also found that its good to try to challenge the students to practice sounds like 'th' and 'f' as these are not sounds that are the Cambodians normally hear.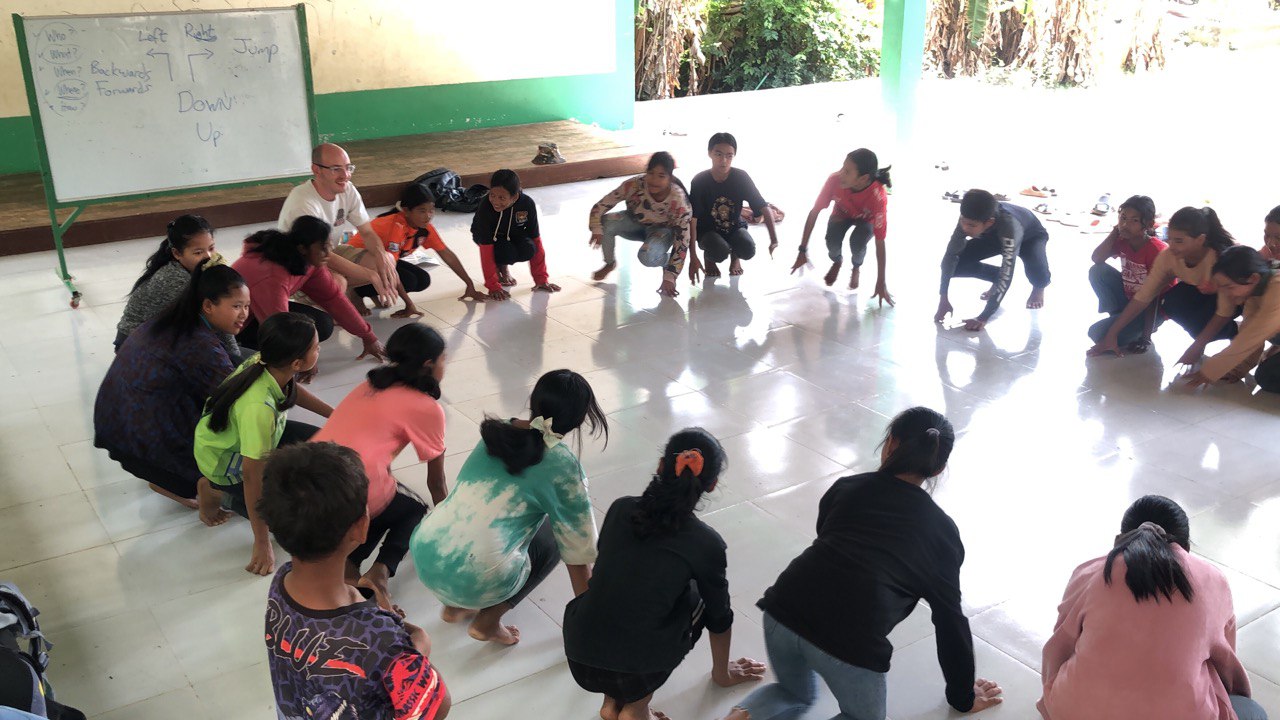 Matt teaching the word 'down'
Mrs Slaters group was slightly younger also with about 20 students, she mostly used objects in the room to teach nouns by pointing and running around, initially she wasn't sure how much they had learned or retained from the hour, but later in the afternoon she saw the same students again and they were able to recall loads of the things they had learned and she heard them testing each other on simple nouns like 'chair' or 'door', so something had clearly stuck!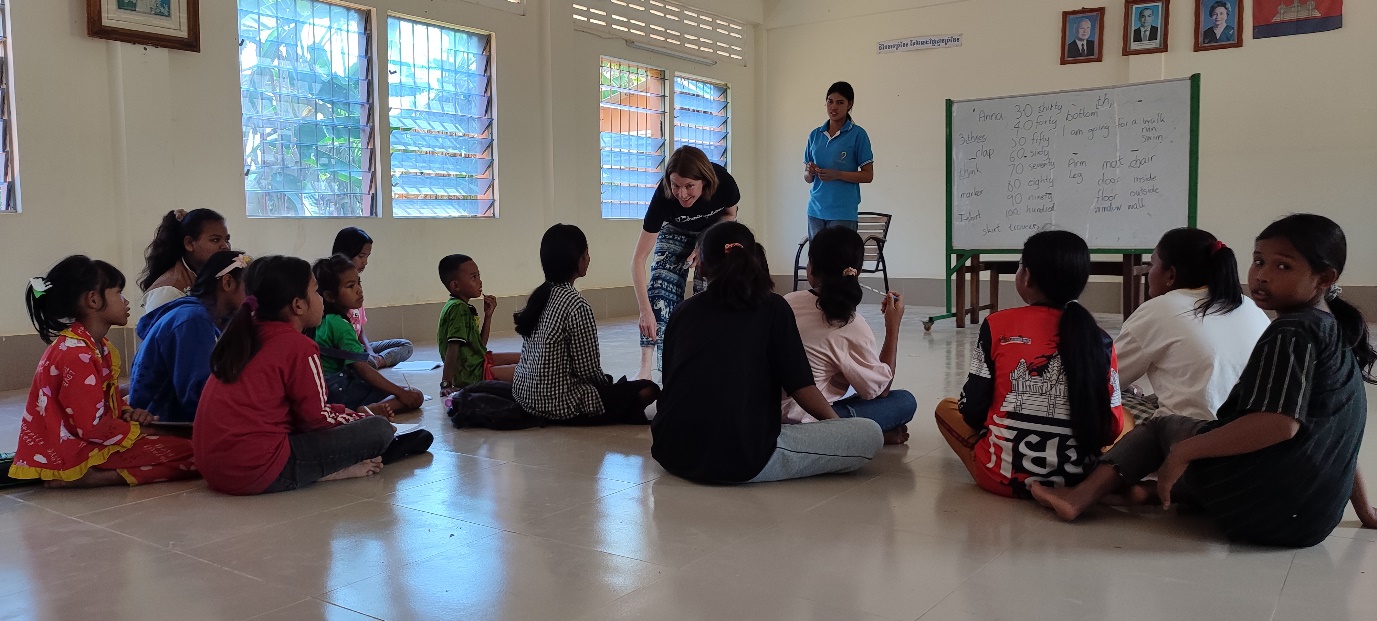 Mrs Slater teaching the word 'dead spider'!
That evening we sat and chatted with the team who were visiting To Om for the weekend, two of the students we had met at the student centre, Zokhai and Piset, were there, a nun, Sr Mech, we had met for the first time today as well as Lokru Theon and Oum Kheuv who work at To Om throughout the week. I only include all their names so you can imagine how much our minds are consistently trying to scramble to learn new names every evening! It's hard to know what's a first name and what's a surname, and what extra sounds go where!!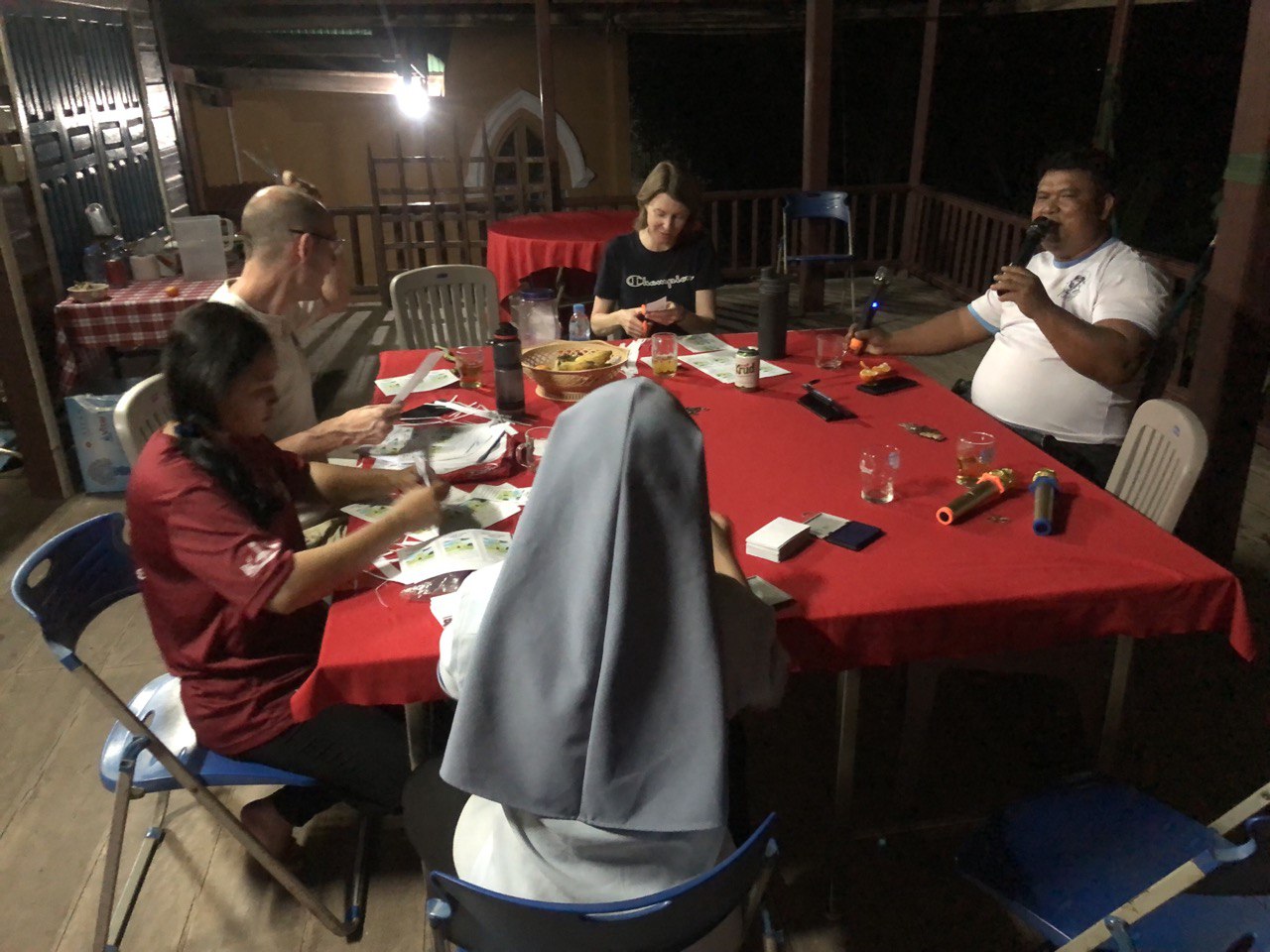 Tun on karaoke, his favourite game!
After the meal we had a couple of glasses of the popular local beer called Krud (really) and Sr Mech got out the Karaoke machine which provided lots of entertainment as we chatted and cut out cards for the students who were coming the next day. It turns out that the staff at Ta Om are great singers!
19 February - Meeting about developing the partnership
February 19th
This would be our final day with the team in Siem Reap, and will probably be the last day for our diary, we woke in Ta Om, the facilities here are not great, Matt's room did have a toilet, but showering was only possible by pouring water with a small bowl from a large bucket over your head.
Mrs Slater's room was slightly better, with a flushing toilet and a working bidet hose (I won't go into detail but you cant put toilet paper in the toilet in Cambodia's rural plumbing arrangements). But, while this wasn't the Ritz, we both survived and we could see how others would manage without too much difficulty. We woke at a reasonable time, ready to get breakfast with the team before Mass.
Mass was again in Khmer, but Fr Glenn's Mass was much bigger and more 'formal' than what we'd seen at Prek Toal the week before so it was easier to follow along for Matt. The Mass was perhaps a little longer, but once the Mass had finished there was around 30 minutes of notices and announcements followed by photos. It was well attended with around 80 in the church, often with local children coming to the windows to look in on what was going on.
After Mass there was rice soup for anyone who wanted it, followed by education for all, because it was Sunday most of the classes were Catechism, as well as an English class normally delivered by a young lady called Rhia, but today run by Matt and Mrs Slater.
By now we had learned a lot about what teaching students English can look like, we had learned ways to make learning fun and ways to make the lesson run smoothly without requiring a translator. Mrs Slater used google translate to put the words we were learning on the board next to the English equivalent while Matt led some games that used the words. An hour passed quickly and the students seemed to have enjoyed the lesson as they left, always finishing with their rehearsed line 'Thank you Teacher, see you tomorrow', which they wouldn't, but I didn't have the heart to tell them.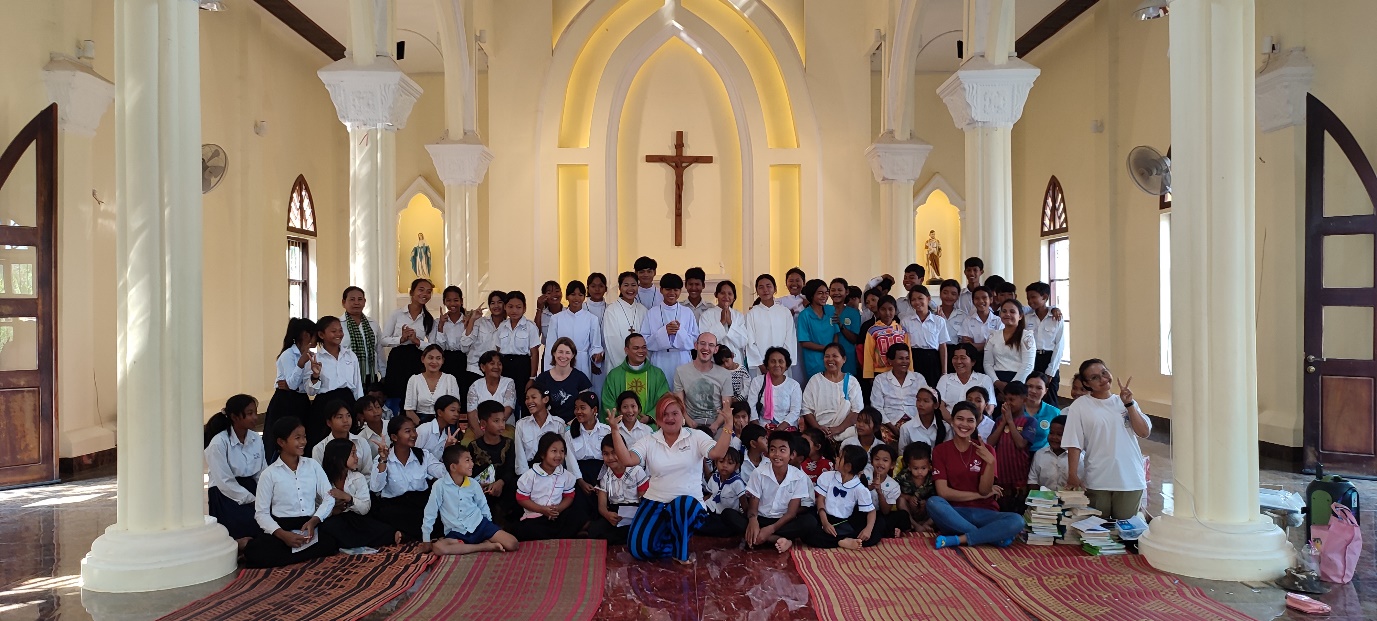 The community at Ta Om
While there was a good moment for a rest, Matt and Mrs Slater had challenged each other with the question we had begun with, 'Can we make a lasting difference here?', knowing that if we couldn't find the way to ensure that the Cambodian's benefitted in a tangible long term way, then the trip would largely be for the benefit of our students, and while that would still be good, perhaps just sending the money would be more effective.
The next task of the day was to deliver some rice that had been gifted to the parish to some of the locals who were most in need. We opted not to both go, as we were concerned it might seem somewhat voyeuristic, so Mrs Slater stayed with the team with a mission in mind – to help them with their English – Matt got into the 4x4 pickup that had 100kg of rice in large sacks and some other foodstuffs in the back, then around 10 teenagers jumped on the back too, we drove for a couple of minutes to the first drop off, an elderly lady who was missing some of her left leg, presumably from a landmine, she had used to attend the church herself, but she was finding mobility harder in her old age, Fr Glenn led some prayers in Khmer and then he and the students chatted with the lady, although the students were shy.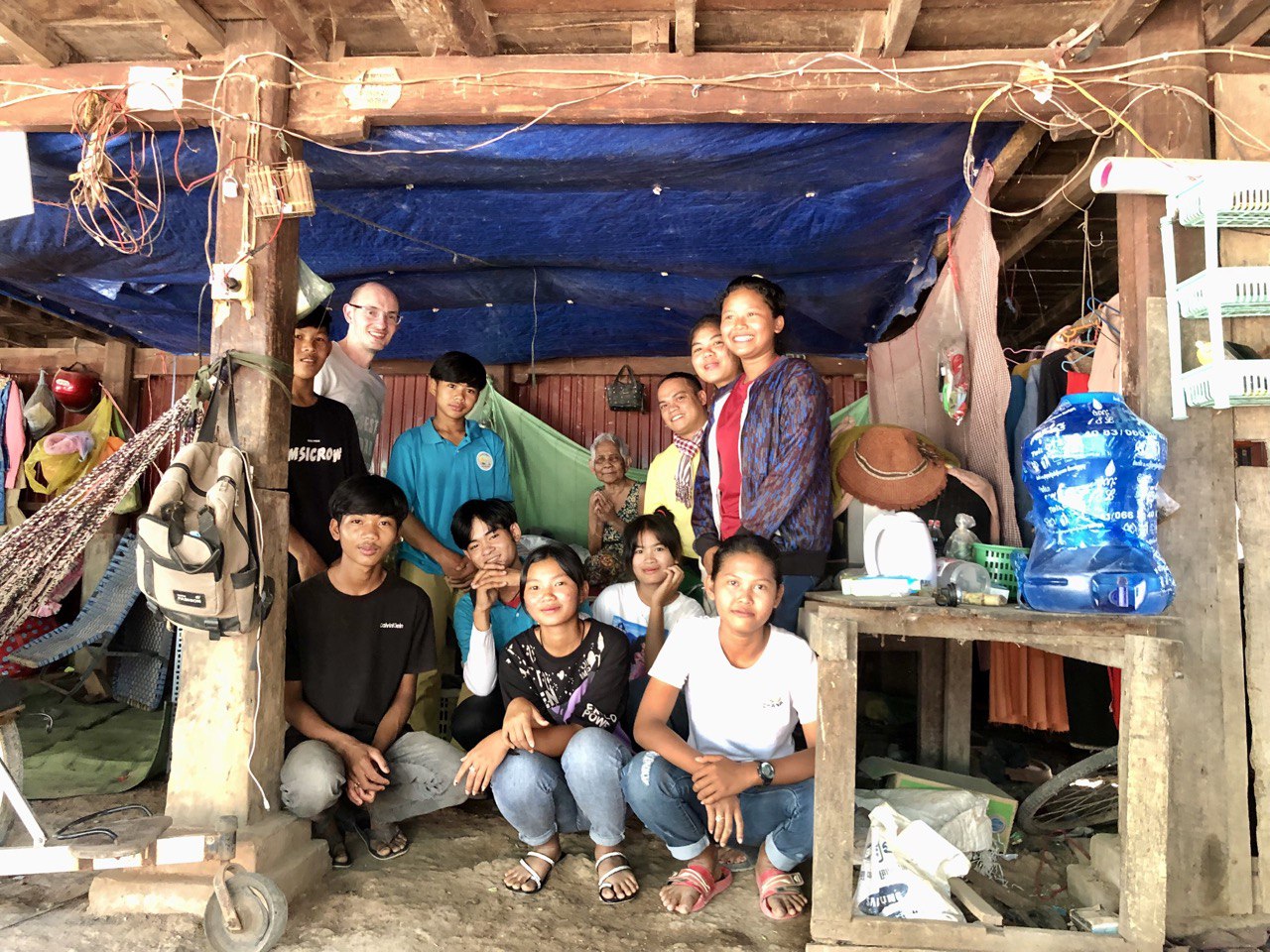 The first stop in distributing rice
The second stop was to another family that used to come to the church and the lady had worked at the church, since covid they hadn't been back and they told us how their granddaughter had been caught in a small house fire a couple of months ago, she looked about 5 and her legs had healed well, again we gave the family food and prayed together before moving to the next and final stop.
This time the people we visited were not part of the church, their house was very humble and their neighbours had 'volunteered' them as needing assistance, as we were there they asked if we could also repair their stairs, but at least for now, we only had time to share the food we had and offer them a small prayer, which they were happy to receive.
While this was happening Mrs Slater asked the girls, Zokhai, Piset and Sister Mech to sit with her and practice English, initially it was hard to get them to talk, but Mrs Slater is persistent, and she was able to draw some really good, detailed conversation out of them. They discussed families, aspirations, what they were studying and places they would like to visit. It seemed these girls had been taught English, but to speak English conversationally takes a lot of time and effort, but the confidence the girls showed proved they had a good grasp of English.
We travelled back to Siem Reap for the last time, to check into our last attempt to find the 'right' hotel and then join Fr Totet and all the priests for a final meeting to discuss future possibilities. It was a really good discussion and we have come away with a lot of ideas which we will be working on over the next few weeks. It was sad to say goodbye to Fr Totet and his team, they were all so welcoming and helpful, it has been an amazing experience and we have learnt so much. Hopefully we won't forget it all on the 17 hour flight home!
See you back at Bennies on Thursday morning.