Ten:Ten Theatre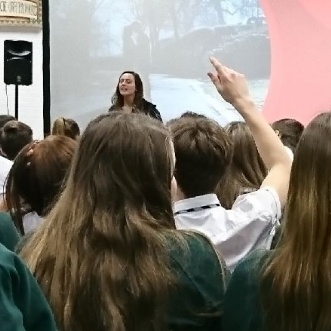 On Tuesday 23rd January students on the Upper School Centre were treated to a visit by Hannah from Ten:Ten Theatre, a group who work to help students to deal with some of the complex questions of life that young people are faced with in today's culture.
Hannah set up a portable Cinema and delivered an engaging presentation filled with film clips and questions that got the students thinking and talking. Ten:Ten Theatre are widely renowned for their high quality performing arts including the productions 'The Jeweller' and 'Kolbe's Gift'.
They are active across the country and beyond, often visiting churches, schools and prisons. Hannah gave presentations for year 9, 11, 12 and 13 where they watched a relationship unfold and were involved in a lively discussion about what was right and wrong in the scenes they had just seen.
The content fitted nicely with topics the students are interested in from PSHE, Sex education, eSafety, RE and Chaplaincy.
The day was a geat success; students learned a lot and had time to think on key issues. We look forward to working with Ten:Ten in the future.