Uniform
St Benedict's Uniform
St Benedict's Catholic School prides itself on having a neat and dignified uniform, representing our identity to the community as a whole. High standards of personal presentation reinforce our values of self-respect and pride for our school and in ourselves.
If a student is unclear whether an item of clothing or appearance is acceptable, they should – in advance – speak with their tutor or Head of Year. All clothing must be clearly marked with student's name.
Everyday Uniform
School jumper with embroidered school logo, purchased from the school supplier.
School tie, purchased from the school supplier.
White collared shirt(not a polo shirt)
Trousers - contemporary or classic fit black school trousers.
Shorts – Boys, from Summer term tailored black school shorts are allowed.
Skirts – Kelso tartan skirt, purchased from the school supplier.
Socks or tights must be plain and of a dark colour.
Shoes should be black and of a material that can be polished.
Green gingham dress for Summer term only.
Outdoor
Students should have a waterproof coat as break and lunch times are outside unless significant rainfall occurs. Footwear such as wellington boots or trainers must be changed out of and in to school shoes before entering the school building.
Please be aware following items are not acceptable part of our uniform
Clothing
Body con stretch trousers that cling to the body shape is not acceptable for boys or girls
Trousers that expose underwear because they are low cut
Denim, corduroy, canvas, patterned items, non-tailored shorts, culottes, jeans, trousers that appear like jeans, leggings or jeggings, extremes of style; ostentatious belts
A non-uniform jumper/hoodie is not allowed to be worn in school
Any items of extreme style such as paramilitary or gang related clothing
Footwear
Coloured trainers
Plimsolls
High boots
Boots.High heels
Plimsolls or similar made
Canvas shoes
Uniform expectations relating to appearance and jewellery.
Students overall appearance should be respectful and appropriate for school.
Both boys and girls are expected to look ready for work
Excessive make-up is not permitted including false eyelashes. All make-up used must be minimal. If deemed otherwise, it will be requested to be removed by a member of staff
Nail varnish must be clear
Longer hair should be tied up in practical subjects such as Design Technology, Physical Education and Science
For reasons of safety and security, jewellery is not to be worn except for the following optional items:
A watch
A neck chain with a small crucifix or religious medal maybe worn under the shirt collar but must be removed for PE

Earrings if worn should be small studs.
No other piercings are acceptable, they must be removed or replaced by clear retainers. We would advise parents/carers to consider carefully permitting additional piercings that overlap with being worn in term time. They will be asked to be removed if worn in school. No beads, friendship bracelets, ring or similar maybe worn.
Uniform Sanctions
We ask that students adhere to the uniform requirements at all times. A Uniform Detention will be held each day for students who fail to meet the schools uniform expectations.
Tutors will make daily checks of their students uniform and will issue a green card for any student not meeting the expectations and book them in for a lunch time Key Stage detention if uniform is not correct. Parents/carers will be notified by email of the incorrect uniform (This is to raise awareness as often students leave home in the correct uniform).
The green card ensures there are fewer points of conflict in the day for a student being consistently asked questions by staff regarding their uniform. Students can show the green card to any member of staff that request to see it.
If your son/daughter has an incorrect piece of uniform e.g. shoes strap has broken, and is therefore wearing trainers, please send a note to your son/daughter's tutor informing them of the incorrect uniform including a clear date when this will be resolved by. The student will then be issued a green card but no sanction will be applied.
Persistent non-compliance with the uniform dress code may result in a student receiving more significant sanctions. Tutor's and a student's Head of Year will be contact to raise concerns as they arise.
If you have any difficulties meeting the school guidelines please contact your child's Tutor/Head of Year as the school has funds which can possibly be used to support students.
PE Uniform
Compulsory
(Only the sports shirt needs to be ordered from C&D uniform suppliers)
Green sports shirt, embroidered with "St Benedict's" logo

Black shorts which are plain (See examples below)

Black football socks
Optional
C&D provide options for all plan black additional sportswear but these can be sourced elsewhere as long as they meet the criteria of being plain and black
Black Training top

Black rain jacket

Black jogging bottoms

Black Leggings (see examples below)

Black baselayer top
Examples of correct shorts and Leggings for Girls
Leggings
Sports leggings should also be plain black and should not be see through or have any patches that are see through. Tights will not be acceptable for PE lessons.
Shorts
If you buy alternative plain black shorts, please can you ensure that they are not skin tight material such polyester. However girls shorts should not be the spandex (close to the skin) 3 – 5 inch versions which are not appropriate for school PE lessons activities.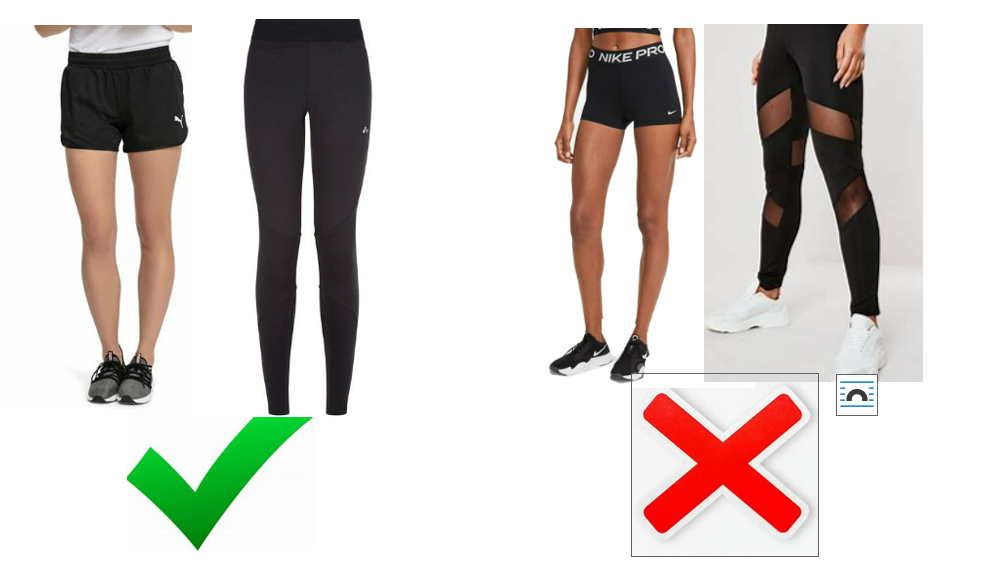 Footwear
For outdoor autumn/winter activities such as football and rugby, football boots are required

For indoor lessons we strongly suggest Astro Turf trainers, which can be used both in the school gym and also the all-weather surface outside

No plimsolls are allowed to be worn